Mediterranean Libya smugglers: Migrants terrorised before doomed Libya journey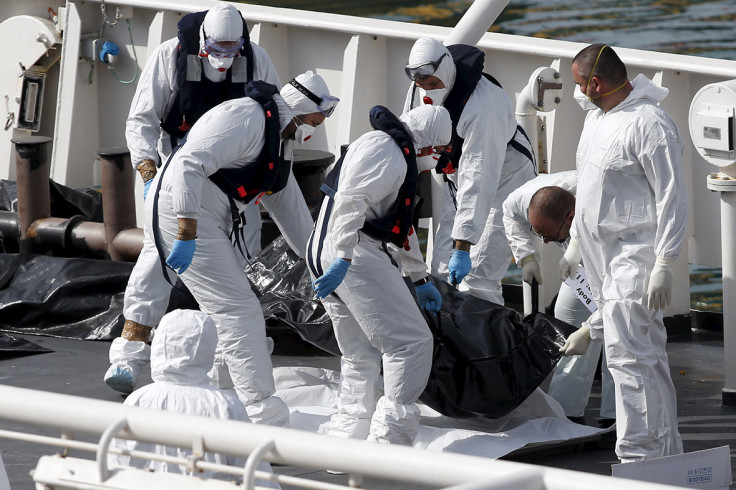 Hundreds of asylum seekers who died in the Mediterranean's worst-ever migrant tragedy were exposed to "inhuman" levels of violence in the days leading up to the disaster, Italian authorities said.
Catania prosecutors said several migrants were beaten to death with rods by human smugglers for failing to obey orders, as they were held at a farm on the outskirts of Tripoli waiting to be boarded. "Others died of hardship," prosecutors said, citing survivors' accounts.
Another migrant was killed on an inflatable boat used to transfer the asylum seekers from the shore to the fishing vessel that later became a grave for most of them.
The man was allegedly murdered when he stood up without asking permission to do so. His body was subsequently thrown overboard.
Detectives said according to their best estimates, about 750 people were on the fishing boat that sank off Libya's coast. Earlier reports suggested up to 950 migrants could have lost their lives in the tragedy.
Prosecutors confirmed evidence suggests the ship capsized because of a hasty manoeuvre by the suspected captain, Mohammed Ali Malek, a 27-year-old Tunisian national, who survived the incident and has been arrested.
Malek allegedly crashed the vessel into a Portuguese-flagged container carrier, the King Jacob, which had been dispatched by Italy's Coast Guard to rescue the migrant boat.
The collision destabilised the 20m (66ft) vessel, pushing migrants to rush to one side trying to get off, eventually causing the boat to capsize.
Malek was one of only 28 migrants pulled alive from the waters of the Mediterranean by the 18 Italian Coast Guard ships that have joined the rescue effort since the boat capsized at the weekend (18-19 April).
Prosecutors said most of the survivors have identified him as the captain. He has been charged with people trafficking and reckless multiple homicide in relation to the disaster.
His lawyer said his client claims he was a regular passenger who had paid for a passage to Europe.
"He says he was like all the others, a migrant on board the fishing boat and that he paid a sum of money for the trip to the Italian coast," lawyer Massimo Ferrante said.
An alleged Syrian crew member, Mahmud Bikhit, 25, has also been arrested and is facing a similar charge, which he also denies.
According to estimates, more 200,000 migrants have successfully reached Europe via boat over the past 15 months. Another 5,000 are believed to have died trying, of which 1,700 perished in the first four months of 2015 only.
© Copyright IBTimes 2023. All rights reserved.