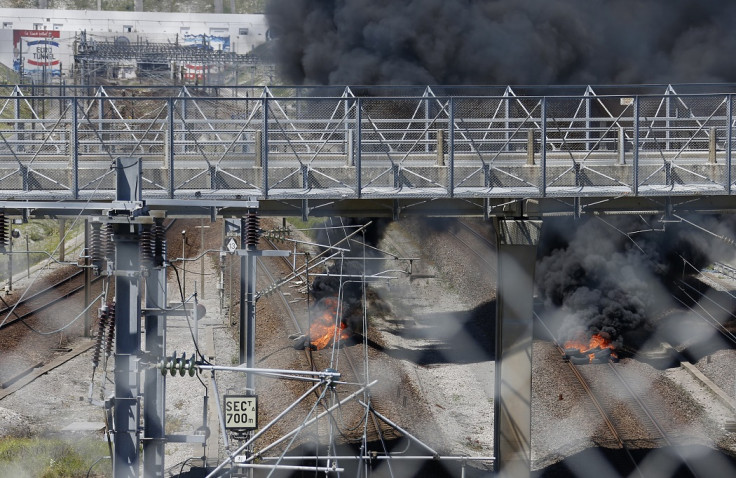 Two junctions on M20 turn into parking lot for backed up lorries.
Eurostar services have resumed while the ferry services between Calais and Dover remain suspended indefinitely following strike action by French ferry workers.
In its website, EuroTunnel says that its passenger service from the UK Terminal is currently operating to schedule with up to three departures per hour while for those travelling via France, the passenger service is operating to schedule with up to one departure per hour.
Eurotunnel was earlier closed after MyFerryLink workers set fires on its tracks.
Kent Police have warned that the port at Calais is expected to remain closed until Thursday.
A Eurotunnel spokesman described the action of the French ferry workers as "deplorable", according to the Express.
"They have been taken away by the police and we will be pressing charges against them for criminal and civil damage and putting people's lives in danger from their actions," he said.
Kent Police said that M20 will now be closed at junctions 8 (Hollingbourne) and 9 (Ashford West) and London bound between junctions 9 and 8 to implement phase three of Operation Stack.
Non-freight traffic continues to be diverted onto the A20 in both directions. "This allows backed-up lorries to park on both the coast-bound and London-bound carriageways of the M20," Kent Police said.
Due to a build-up of heavy traffic on the M20, A20 and roads in and around Dover, junction 13 is also currently closed coast bound, it added.
Operation Stack allows parts of M20 to be used to allow lorries headed towards the continent to queue to avoid gridlock across Kent's road network.
The Kent County Council has arranged for water to be distributed to lorry drivers affected and portable toilets are in place along the M20.
It reminded drivers of the heatwave this week, urging them to take precautions to keep themselves and their passengers safe.
Striking French ferry workers from MyFerryLink have threatened to continue their action this summer.
"We want to make the French, British and Belgian governments understand that if a solution isn't found to save our 600 jobs, there will be a lot of disruption this summer," trade unionist Eric Vercoutre told Reuters.