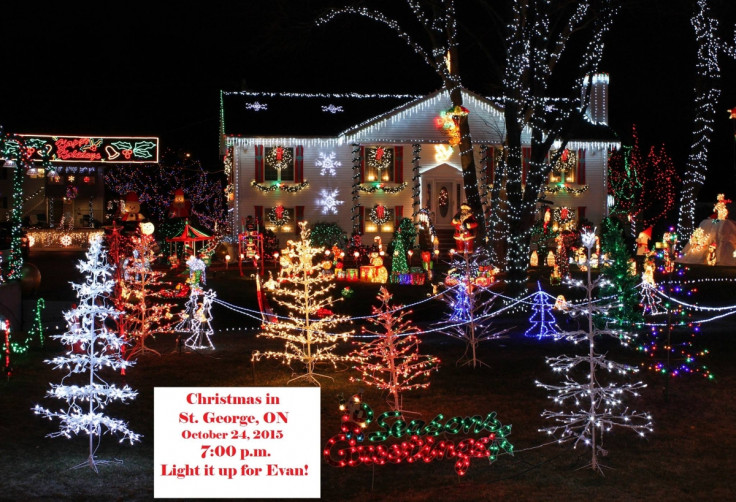 Christmas in October might seem odd but it was the least the townspeople of St George in Ontario could do for Evan Leversage, a seven-year-old boy who is terminally ill with brain cancer. Evan's doctors asked his parents if they would move Christmas forwards by a few months after it emerged his tumour had grown after his five-year battle with the disease.
The boy's mother Nicole Wellwood had originally planned just to keep the early Christmas within the family. However, her cousin thought the whole town could get involved and began fund-raising and giving out flyers.
After word spread, the town, 35km (22 miles) west of Hamilton, began to decorate their homes with lights and Christmas messages. CBC reported that hundreds of houses in St George, which has a population of 3,124, had decorated for Christmas early.
On both sides of Evan's house, the streets are fully prepared for the festive season and the Christmas parade is due to drive past his home on Saturday (22 October).
You look out our front window, the entire street is lit up," said Wellwood. "Everywhere you look, it's Christmas. It's more than I could have imagined.
"When Evan looks out his window, the backyard is decorated and there's a sign saying 'Merry Christmas'."
In an interview with local radio Wellwood said Evan was astonished with the town's response. She told him the decorations had been put up because "you have a whole town that loves you'".
Evan was diagnosed with cancer just a couple of days before his second birthday. After 70 weeks of chemotherapy, he seemed to be getting better but in January the tumour returned and he lost mobility in his arm and leg. He had more chemotherapy in April, but by July doctors said there was nothing else they could do.
"Through everything, he has been through a lot of aggressive treatment," said Wellwood. "He's been phenomenal through it all. He wants to make everyone happy. In my eyes, he's a hero," his mother told CBC.