Evad3rs Dream Team has released a new update to fix the Weather app crash bug and long reboot issues that have been affecting some users following the evasi0n jailbreak installation on their iOS devices. Earlier, pod2g released a script to manually fix issues on the iPhone and the iPod touch. But the effort yielded mixed results with several users still complaining that the issues persisted.
Addressing the jailbreak users about the long reboot and Weather app issues, planetbeing had this to tweet: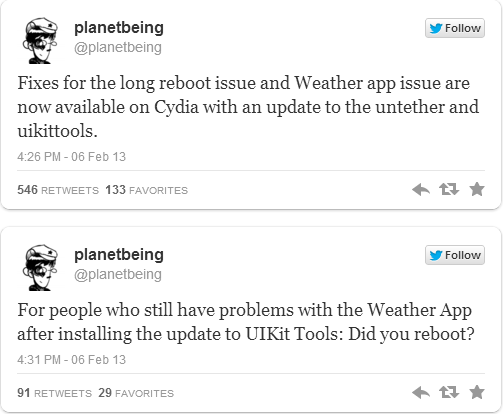 The manual fix involved a bit of code manipulation, while several users found it unwieldy and error-prone. However, as iPhone Hacks notes, the new update does the job automatically through a couple of Cydia packages: evasi0n 6.0-6-1 Untether (v0.2-3) and UIKit Tools (v1.1.6). This fix is applicable for iPhone, iPad and iPod touch users.
Here is a brief guide for installing the fix for the Weather app crash bug and long reboot issue: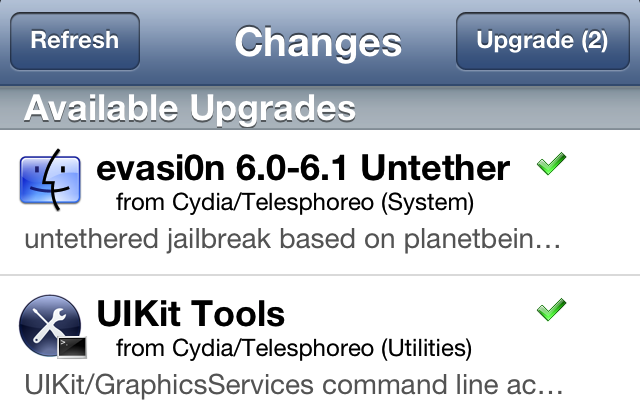 Launch Cydia app
Tap on the Changes tab at the bottom
Hit the Upgrade button and then tap the Confirm button
Cydia will now prompt you to reboot the device. Go ahead and reboot your iPhone.
NOTE: If the device is stuck at booting, then Turn off (do not reboot) device and turn it on. Now, go to Cydia and uninstall Appsync (as this software has known conflicts with evasi0n jailbreak as well as new Weather app bug-fix). Once again, turn off the device and turn it on. Now, check if the Weather app launches without a crash.
Here is what pod2g had to say regarding the compatibility issue with new fixes for evasi0n and AppSync software:
"Fixes for evasi0n have been released in Cydia. They are not compatible with AppSync (software to pirate apps). That was not intended!"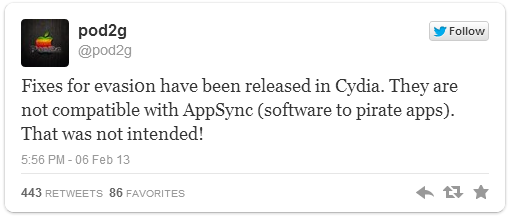 A new update v1.1.7 has reportedly been released on Cydia, which will replace the older version v1.1.6 and should fix all known bugs and issues with evasi0n jailbreak.
In his latest Twitter update, MuscleNerd clarifies about the compatibility problems with AppSync and the latest Cydia fix: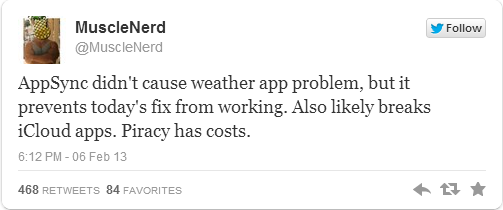 "AppSync didn't cause weather app problem, but it prevents today's fix from working. Also likely breaks iCloud apps. Piracy has costs."
UPDATE: A new version of the evasi0n tool - evasi0n 1.1, has now been released for all three platforms (Mac, Windows and Linux), which brings the bug-fix for the Weather app crash and long reboot issues. It replaces the older version evasi0n 1.0 and should be installed by users who have not yet jailbroken their device on iOS 6, iOS 6.0.1, iOS 6.0.2 or iOS 6.1 (check out our step-by-step guide here).
NOTE: Existing jailbreak users need not upgrade or install the newer version of the evasi0n jailbreak, and the aforementioned Cydia bug-fix update should suffice.