Leighton Baines believes that Everton have a potential star in the ranks in teenager Ross Barkley, who has forced his way into the first team plans of manager David Moyes.
The 19-year-old has started two of the last three Premier League games and was picked OUT for special praise after his impressive performance in the 0-0 draw with top four hopefuls Arsenal on Tuesday night.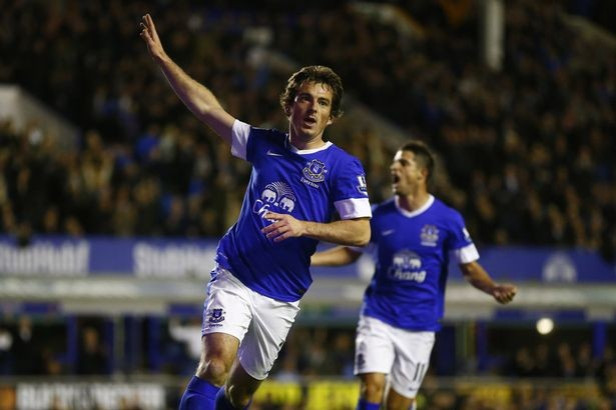 "We're having to find the times and moments to play Ross, given where we are in the league and what games we have, and he's got a bit to do yet," Moyes told the Independent after the Arsenal game. "He's not quite ready to be a regular, playing all the time, but we gave him a role that might suit him. He's got a goal in him."
Barkley made his debut for Everton more than two years ago and there has always been plenty of expectation placed on the midfielder after progressing through the academy.
Injuries have played a major part in halting his progress but after loan spells at Sheffield Wednesday and Leeds United, Baines feels he is starting to fulfil his potential.
"He has an abundance of talent but the manager is trying to pick the moments when to play him," Baines told the Daily Mail. "Nothing fazes him. He is such a good player and does not get fazed by any occasion.
"That is why he has started a couple of big games away from home and that underlines that he is starting to get the trust. He has been around the first team for a long time. He has a hell of a lot of ability and is young. He will be a top player for the club."
Everton are still in the hunt for a place in the top four and are just five points behind Chelsea, who currently occupy third place. They face a trip to Stamford Bridge on the final day of the season and Baines knows how important it is to stay in touch with Rafa Benitez's side.
"That is quite a few games away so it is hard to talk too much about it," added Baines. "What we are taking about is keeping in touching distance. We need to keep winning and keep ourselves in the mix."