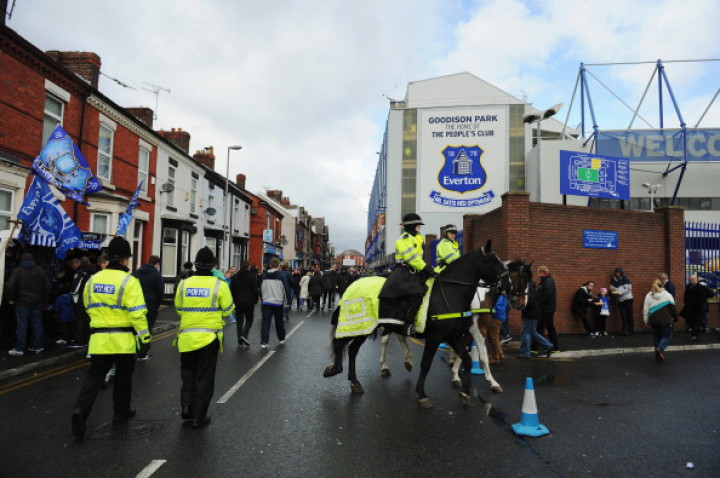 Then Merseyside derby clash between Everton and Liverpool will cost £78,500 more to police than usual after the Premier League decided to schedule the match for a 5.30pm kick off.
Merseyside police will deploy 254 extra police officers around and inside Goodison Park, Everton's home ground, and also the city centre for fear the later than usual start could spark alcohol-fuelled crime.
Deputy Chief Constable Andy Cooke said a mid-afternoon kick off requires the deployment of 83 officers to police the area close to the stadium for an eight hour period. The later kick off means the force will work up to 17 hours on Saturday.
Cooke said: "Unfortunately our hands were tied and this was the first available opportunity, following our representations to the club, Premier League and Ground Safety Advisory Group to appeal the decision in a bid to make sure that the game did not go ahead without unnecessary risk.
"The 5.30pm kick off time presents different challenges for the force and the club and increases the impact of the event, not only to the city centre but across Merseyside. The plan for a late kick off requires 254 police officers covering the area around the stadium, inside the stadium and also the city centre."
He added the appeal to move the match to an earlier kick-off time was "no way a reflection of the behaviour of fans from either club" but said a significant minority could cause problems in the extended build up to the tie.
Derby matches are usually played earlier in the day to help curb excessive drinking, which can lead to anti-social behaviour.
The Premier League clash has been moved to 5.30pm so the match can be televised by Sky and beamed across the world.
Liverpool City Council and Merseyside Police wanted the game to kick off no later than 2pm but the police force withdrew an appeal after Everton agreed to segregate fans.