Reality queen Marnie Simpson's heartbreaking confessions about her teenage years and the condition at her home moved her social media fans to tears.
Laying bare her heart, the Geordie Shore star spoke candidly on Channel 5's In Therapy session and revealed how she contemplated suicide at the age of 17.
Simpson confessed to TV therapist Mandy Saligari that she was not at a great place, emotionally, when her mother Sharon Kinney abandoned her to go live in Las Vegas with a man she had met on the Internet.
In the coming years, the 25-year-old TV star would take to wild night-outs, partying and drinking to get over her troubles. But all this did not go down minus side-effects, as Simpson revealed that she had to be taken to hospital twice because of alcohol consumption.
"I was only so young I had nothing. It was a very tough couple of years. Probably the darkest of my whole entire life," she said adding, "I literally used to want to kill myself. That's how depressed I was. I just didn't even want to be alive.
"I used to just cry from morning till noon and night. I didn't leave the bedroom for more than a year," Simpson recalled, to which her cousin and fellow Geordie Shore star added, "Marnie went off the rails. She had a breakdown."
The MTV star also admitted that she would go out and party for days together to avoid returning home so much so that when her mum returned from Vegas, she almost did not recognise Simpson, considering her shockingly gaunt physical appearance.
"The best thing I should have done is go to Vegas and lived with my mum, but I had a controlling boyfriend who stopped us from doing that. He was very violent, jealous and controlling."
Simpson is now a popular face of reality TV, but if her words are any indication, there's a lot that goes behind living up to the standards of the popular shows that she is a part of. So far, the star has spent almost £20,000 on nose jobs, lip and cheek fillers, liposuction and breast lifts; but she is still not satisfied.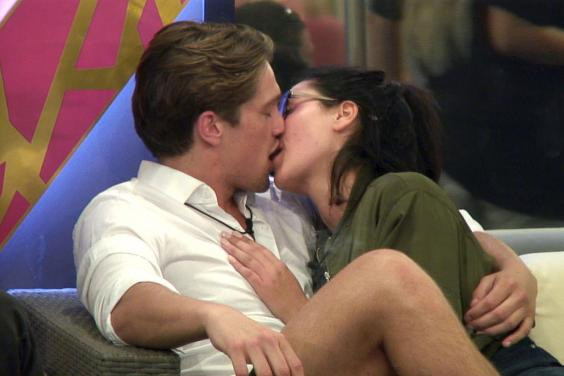 "Reality TV is all about looks. I get called a slut on social media. I get annihilated from head to toe. In this industry looking good is key," she said.
Asides looking good in front of the cameras and indulging in regular parties, the "professional drunk" is also known for having sex with her co-stars. But Simpson defends her decisions saying, "I'm just quite an open person."
During her stint on Celebrity Big Brother, the star had not only stripped naked but also had indulged in a steamy shower with her then boyfriend, TOWIE star Lewis Bloor.
"It was so romantic. I'll never regret that," Simpson simply explained.
---
The Samaritans provides a free support service for those who need to talk to someone in the UK and Republic of Ireland. Visit Samaritans.org or call 116 123 (UK) or 116 123 (ROI), 24 hours a day, 365 days a year. Visit this website to find a support phone number in your country.
If you or someone you know is suffering from depression, please contact a free support service at Mind.org.uk or call 0300 123 3393 (charges apply).