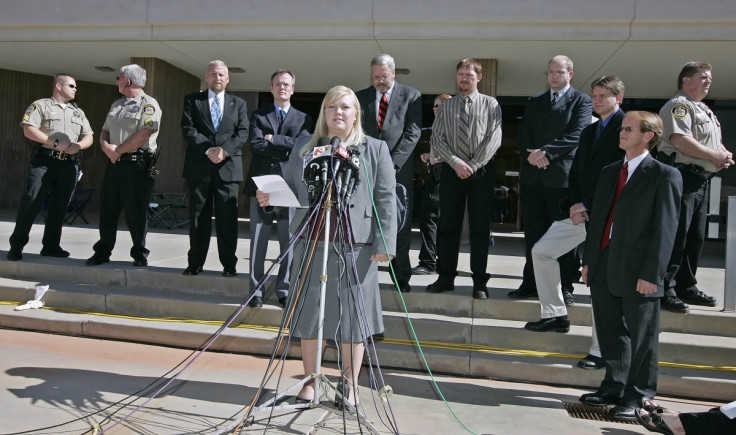 A woman who was forced by polygamous sect leader Warren Jeffs to marry her first cousin when she was just 14-years-old has been told she can sue his organisation. Elissa Wall is seeking up to $40m (£28m) in damages from a communal property trust presided over by the Fundamentalist Church of Jesus Christ of Latter Day Saints (FLDS).
The 29-year-old says that she married her teenage cousin, Allen Steed, in 2001 under duress from the shamed sect leader, Jeffs. Originally from Utah, Wall escaped from the sect to bravely testify against Jeffs in a 2007 trial.
Her book, published in 2008, entitled Stolen Innocence, told of her experiences with the infamous Mormon sect. The book reached number two in the New York Times best sellers list and has sold over 400,000 copies. Wall has since sold the rights to her book to a film company for a feature length movie based on the harrowing details of life under the cult.
On 23 March Utah's Supreme Court said that Wall's lawsuit could go ahead after lawyers for the cult argued that - as she had made a deal with her ex-husband to help sue – the case should be dismissed.
Wall first brought a case against the FLDS in 2005 after she had escaped the sect and ended her four-year marriage. Her testimony was integral in securing a life plus 10 years to life sentence for Jeffs who was convicted of being an accomplice to her rape.
Jeffs, the leader of the FLDS and considered almost divine by some of his followers, was latter sentenced to 20 years plus life for child sex offences in neighbouring Arizona. Wall says that he directly presided over her 2001 wedding ceremony.
The United Effort Plan (UEP) trust holds nearly all of the land that the FLDS has acquired as well as the homes and businesses belonging to the communities in Hildale, Utah, and Colorado City, Arizona. The trust is said to be worth about $110m (£778m).
Attorneys for the UEP say that if Wall wins her lawsuit, homes belonging to the community would have to be sold. In February, Jeffs' brother Lyle was among 11 high-ranking members of the secretive group arrested on suspicion of food stamp fraud and money laundering.