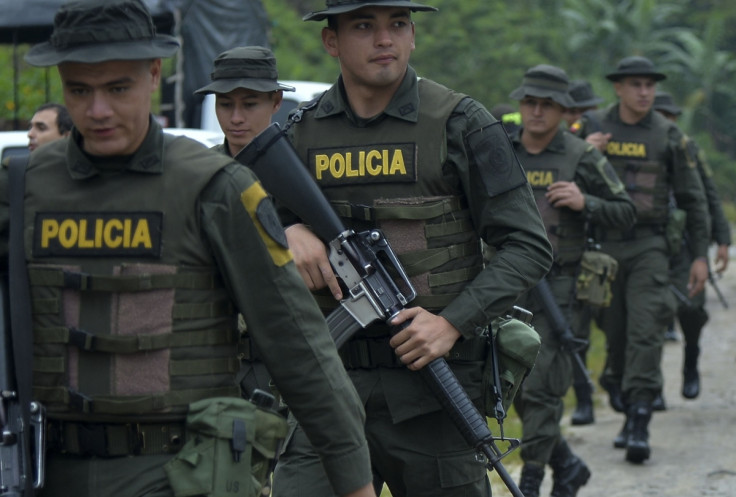 The main witness against Santiago Uribe is an ex-police officer who is under investigation for participating in the crimes attributed to the paramilitary group. Juan Carlos Meneses identified Uribe as one of group's leaders, responsible for mulitple murders in the province of Antioquia,
Following Uribe's arrest by officials from the attorney general's office on Monday 29 February, he was taken to the Medellin office of the investigating body, where he will remain until a judge approves of the arrest.
Meneses testified that when he was the local police chief in the region in 1994, he collaborated with the Twelve Apostles, who he described as "a group of people doing cleaning, or social cleansing... the only thing you have to do is, when that group goes to do a job, you have to collaborate with them."
The former police major alleges that Uribe, a cattle rancher and horse breeder, ran the death squad from a ranch called La Carolina using short-wave radios. Meneses stated he witnessed 15 uniformed paramilitaries with AR-15 and AK-47 rifles at the ranch doing physical training on an obstacle course.
Meneses said in a 2010 interview with AP that as the head of police in the town of Yarumal in 1994, he received monthly payments from the group to look the other way as it murdered drug addicts, thieves and cattle rustlers in the area.
Uribe, the younger brother of the former Columbian president, has denied that he was connected to the death squad. His defence team has argued the accusations were part of a plot against him and have accused the former police officer of false testimony.
Senator Iván Cepeda, of the leftwing Polo Democrático, who has written books about the Uribe family's alleged links to paramilitaries, said in a Guardian report that it merely showed that "no one is above the law."
In April 2015, Vladimir Carrillo, a journalist for Telesur in Colombia, reported on the conviction of three senior officials of the government of president Alvaro Uribe, by the Supreme Court of the South American country, for corruption, paramilitarism and drug trafficking.
Uribe was president from 2002-2010 and his administration was beset by scandals. This included allegations of having death squad members at his ranch in the 1980s, when he was governor of Antioquia. He was accused of maintaining those ties while leading the country.