Ex-EDL leader Tommy Robinson sues Cambridgeshire Police for £15,000 after pub row
Anti-Islam activist accuses officers of breaching his human rights and persecuting his family.
Tommy Robinson, the former leader of the English Defence League (EDL), is suing Cambridgeshire Police for harassment and discrimination after being thrown out of the city of Cambridge.
Robinson, real name Stephen Yaxley-Lennon, is demanding £15,000 in compensation and a public apology from officers after alleging the police unfairly targeted him and his young children as they watched a football match in a pub.
The claim says his children were left so distraught by the incident, they "no longer wish to attend football matches with him due to the actions of the police, and a fear that it will happen again".
The civil action comes after the 34-year-old has for years complained of being "persecuted" by the police for what he claims is punishment for his controversial anti-Islam activism.
After being thrown out of the city, he said: "Everywhere I go, anything I do – followed, harassed, persecuted. I haven't done anything wrong ... It's a disgrace."
Court documents submitted to Cambridge County Court this week by Robinson, and seen by IBTimes UK, allege police action on 27 August last year violated his human rights and caused "humiliation, stress and anxiety" to him and his family.
The day in question saw Robinson travel to Cambridge with his young children to watch his team Luton Town FC play Cambridge United FC on a "family day out". They were joined by a friend and their children.
At the end of the match, the group travelled to the Grain and Hop Store pub in the city centre to watch Premier League sides Manchester United and Hull City play each other on the television as their children played outside.
"There was no suggestion that [Robinson], his friends or any other football fans in the public house were being anti social," Robinson's claim states.
But it adds that at around 6.30pm police officers entered the pub and informed [Robinson] that he had to leave Cambridge "due to a fear that he was likely to be involved in disorder."
Mobile phone footage taken by Robinson at the time, and later posted online, shows the ex-EDL leader shout at officers as they tell him he must leave.
Insisting he's done nothing wrong, he angrily asks them: "What sort of law tells a man with his children he has to leave a city? What is that about?"
At one point, a manager of the pub's security arrives and tells police that Robinson, his friends and their children "had caused no problems at all".
But one of the police officers can be heard telling Robinson: "Because of the lessons we've learnt in the past, we know that if certain groups stay within the city then they cause violence."
Another adds: "You are with a group of people who have been identified as potentially being involved in violence."
After Robinson eventually exited the pub with his friends and family through fear of arrest, his children can be heard crying as they're followed by about half-a-dozen officers down the road.
"You've terrorised my family," Robinson can be heard telling the officers.
Robinson, who left the EDL in 2013 and now leads anti-Islam group Pegida UK, has been implicated in football-related violence in the past and takes his adopted alias from a notorious Luton Town FC hooligan.
He was given a three-year football banning order (FBO) in 2011 following a brawl between supporters of Luton Town FC and Newport County fans.
But a failed attempt by the Home Office to impose another FBO on Robinson last year after he attended the Euro 2016 tournament in France led a judge to say of Robinson: "His actions in recent years have shown that he can attend regulated football matches, both here and abroad, and not become embroiled in violence or disorder – in fact, I accept that he has sought to avoid it."
Robinson claims Cambridgeshire Police targeted him not because he posed a threat but because of his activism against Islam, which critics say is extreme and causes community unrest.
"He was informed that he had to leave the City due to being targeted by the nature of who he is and not due to any threat of violence or disorder. This amounted to harassment of him and his children," the claim states.
It goes on to say that that Robinson had been "directly discriminated against by Cambridgeshire Constabulary on the basis of his philosophical beliefs contrary to Section 13 and Section 26 of the Equality Act 2010, in that his views against extremist Islam were the real reason that he was informed that he was being dispersed from the City."
Robinson claims Cambridgeshire Police violated the Protection from Harassment Act 1997, the Equality Act 2010 and the Human Rights Act.
His claim asks for damages "for the humiliation stress and anxiety for himself and also the stress and anxiety he suffers from seeing his children in distress."
It added: "Following this incident his children have stated that they do not wish to attend football matches due to the way they were treated by the police."
After footage of Robinson being thrown out of Cambridge went viral online, Jason Ablewhite, Cambridgeshire Police and Crime Commissioner, investigated the force's actions.
He said he was "satisfied that the action taken by officers at the scene was reasonable and proportionate and in the interests of public safety."
A spokesman for Cambridgeshire Police confirmed receiving notice of Robinson's civil claim.
They said: "We have received a 'letter before action' which is currently under review and it would be inappropriate to comment further at this time."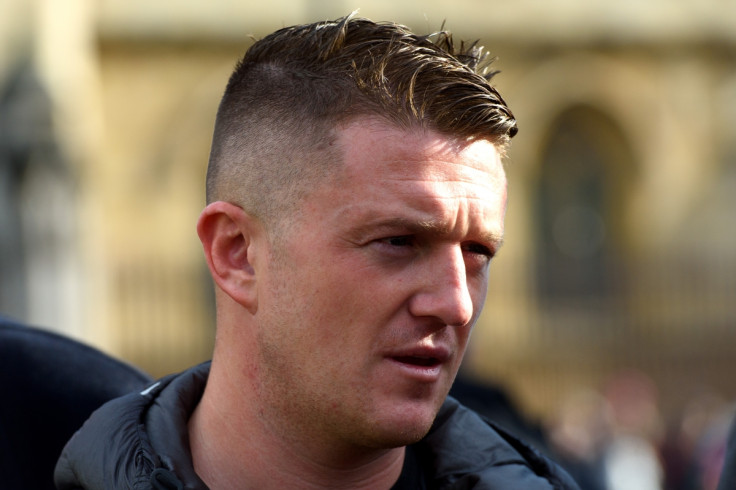 © Copyright IBTimes 2023. All rights reserved.