A transgendered surgeon who served in the US Navy has offered to perform free gender-confirming surgery those hit by a ban on transgendered individuals serving in the military.
Earlier this month, US President Donald Trump stirred criticism for announcing the military would no longer accept transgender people, claiming the heath care services they need would be too costly for the army.
"If the commander-in-chief won't take care of our veterans, our veterans will," Dr. Christine McGinn told CNN.
Trump said in a series of tweets that the transgendered would no longer be able to serve "in any capacity in the US military" as "victory cannot be burdened with the tremendous medical costs and disruption that transgenders in the military would entail".
However, reports revealed that the Defense Department spends ten times as much money for erectile dysfunction medications, including Viagra, than it does for transgender healthcare needs.
In 2016, the Rand Corporation think-tank estimated that gender-transition costs were "relatively low" and amounted to between "$2.4 m and $8.4 m annually" for the estimated 4,000 transgender people serving in the army.
The amount represented "a 0.04- to 0.13-% increase in active-component health care expenditures", it said.
"I think it's being twisted and spun to make it seem like it would be more than it is,"McGinn said.
"I think the cost of getting rid of specialised, trained military service people is exponentially larger than just taking care of them."
She also said there was misconception about the downtime required for people who are transitioning.
"Some people opt to have no surgeries, but in general, most of my patients are back to work in six weeks, sometimes two weeks. I think that this is getting inflated to make it a little more political,"she said.
McGinn, who was nominated for flight surgeon of the year during her time in the navy, believes Trump's decision is based on discrimination.
"I think that this sounds a lot like when we had people of color who wanted to serve, women, or gays and lesbians who wanted to serve," she said. "I think any fifth-grader could see that."
Transgender people in the US were not allowed to be involved in military activities until 2016, when the ban was lifted.
The lift on the the transgender ban meant that individuals could no "longer be discharged, denied reenlistment, involuntarily separated, or denied continuation of service because of being transgender".
During his electoral campaign last year, Trump vowed he would protect the fights of the LGBT community. He also said he was "much better for the gays", compared to his adversary Hillary Clinton.
Reactions to Trump's ban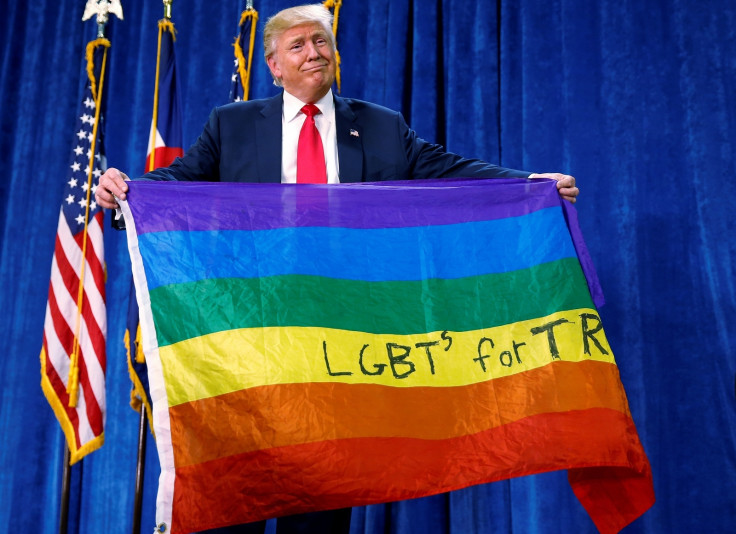 Trump's announcement on Twitter was met with disapproval by both politicians and members of society.
People who criticised his decision include former vice-president Joe Biden and Chelsea Manning, a transgendered former US soldier who was arrested after she disclosed 750,000 files as part of the Wikileaks organisation.
However, others have supported Trump's decision.
Chris Barron, the head of 'LGBT for Trump', reacted by saying: "President Trump is committed to defeating the forces of radical Islam that seek the global extermination of LGBT people."
"I defer to the military leaders to determine what policies around the question of trans service best allow them to win the war on radical anti-LGBT Islamic extremism," he continued.