Experts discuss why King Charles III did not see Prince Harry in the U.K.
The Duke of Sussex was in London to attend the four-day preliminary hearing of his privacy case against Associated Newspapers Limited.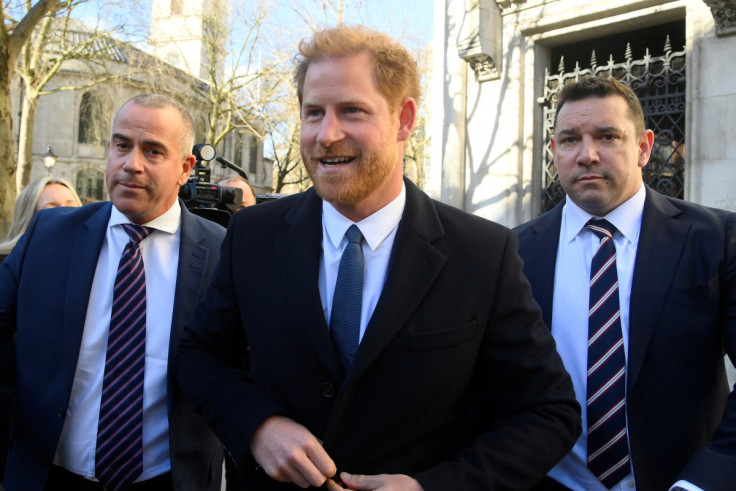 Prince Harry made a surprise visit to the U.K. this week but it is believed that no reunion took place with his father, King Charles III, and royal experts claimed a meeting with his son was not in the monarch's diary.
The Duke of Sussex surprised the public when he arrived at London's High Court on Monday, March 27, for the four-day preliminary hearing of the privacy suit he and Elton John, among others, filed against Associated Newspapers Limited, publishers of The Daily Mail and The Mail on Sunday.
But according to reports, His Majesty was "too busy" to meet with his son even though he had a few days suddenly left open in the U.K. after his visit to France was postponed due to riots relating to the government's proposed pension reform program. His trip to Germany was also not until Wednesday, March 29.
Royal author Duncan Larcombe told Fox News Digital, "I'm told Charles was never expecting to see Harry although he was in the country, Charles was too busy with Germany and the cancellation of his trip to France."
Many royal watchers claimed King Charles III snubbed a meeting with Prince Harry. But royal expert Shannon Felton Spence disagreed and said the duke timed his visit when his father would not be in London.
"The king was scheduled to be in France before Germany. He was not even supposed to be in the U.K. So, Harry's surprise trip was strategically planned for when his brother and his father would be out of town," she explained.
Spence added, "The political situation in France forced an unfortunate cancellation of the king's visit, which made him [stay] unexpectedly in the U.K. for a few extra days. If the king is too busy to see Harry, it's because he approached him as the king and not as a son to a father. Sometimes, your former boss is too busy to see you if you drop in on them."
Fellow royal expert Richard Fitzwilliams added that "it wasn't to be expected that King Charles III and Harry would see each other during his surprise visit this week" and noted that the duke actually "didn't even have to appear in court." But he did so anyway to show his support for the case.
Meanwhile, Kinsey Schofield said a meeting would not have been possible with the king's diary "typically built months in advance." But she also claimed that the monarch's unwillingness to see his younger son "was a stark example of consequence."
"The idea that the king had this time off and chose not to engage with his son tells me that Charles does not trust his boy. He does not want any drama before the coronation, and he clearly thinks Harry's grievances are petty," she said.
Schofield, the host of the "ToDiFor Daily" podcast, said it is easy to understand why King Charles III would be reluctant to meet, given the serious allegations the duke hurled at the royals in his promotional interviews for his memoir "Spare" and in the Netflix docuseries "Harry & Meghan." He accused Camilla of leaking stories to the press to rehabilitate her image and that Prince William physically attacked him during a heated argument about Meghan Markle in 2019.
Schofield called it "a direct result of Harry's selfish actions." She said Prince Harry "hurt so many people" and "alienated his family" in the process of making the Netflix docuseries and in selling his memoir. She acknowledged that while "time heals all wounds" she suggested that the duke must also "stop lobbing grenades" against the royal family.
Fitzwilliams agreed that Prince Harry's "attacks on the monarchy" have "made a reconciliation between the royal family and the Sussexes all but impossible." He said that a meeting with King Charles III "would have been fruitless."
Prince Harry's visit to London marks the first time he returned to the U.K. following Queen Elizabeth II's funeral on Sept. 19, 2022. He and Meghan Markle have been invited to King Charles III's coronation on May 6, but they have yet to confirm their attendance.
© Copyright IBTimes 2023. All rights reserved.