Christina Grimmie was shot after her concert in Orlando, Florida, and later succumbed to injuries in the Orlando Regional Medical Centre on 11 June. Her untimely death has shocked music lovers around the world even as her killer's identity remains a mystery.
The Orlando police department is yet to release any information about the killer but eyewitness reports provide chilling accounts of the incident. The unidentified gunman is reported to have been carrying two guns when he shot the 22-year-old former The Voice contestant on her head. Christina's brother Mark Grimmie is said to have tackled the suspect to prevent further casualties but the gunman managed to fatally shoot himself.
Josh Call, who has a hot dog stand outside the venue, told Orlando Sentinel that he was an eyewitness to the tragic event. He rushed inside the venue and saw a girl lying on the ground with blood coming from her head. He also says he saw an injured man lying in a "pool of blood."
"I don't think anyone expected something like this to happen. It was horrifying," he added.
The singer, who was also a member of the band Before You Exit, has a Twitter bio that is getting attention after her death. "All the disadvantages of this world are due to the insecurities of the person himself's ability," her brief bio reads.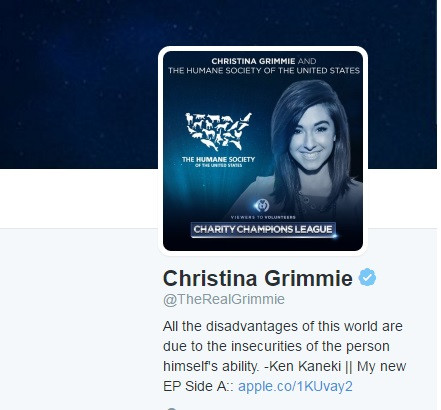 In her last tweet, the Side A hitmaker asked her fans to join her at the concert in Florida. "Hey guys what up. We are in Orlando. Please come to the show if you live near. We are at the Plaza Live. Please come out," she said in the video.
Meanwhile, the singer's management team has released an online statement on the GoFundMe page seeking donations for her family in their time of need.
"Christina Grimmie was such a gift to this world and loved by many. Unparallelled was the love from her parents and brother who moved across the country to support their daughter in achieving her musical dreams. We would love for the family to be able to take the proper time to grieve," the statement says.
Here is how celebrities reacted to Grimmie's death: