Nico Rosberg will start the 2012 Formula 1 Spanish Grand Prix from pole position, after a commanding performance in Saturday's qualifying session. The German claimed his third career pole with team mate Lewis Hamilton in second and defending world champion Sebastian Vettel in third.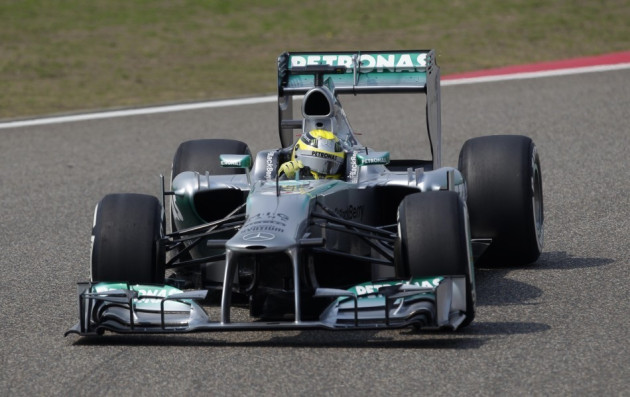 Lotus-Renault's Kimi Raikkonen is second in the championship standings and the Finn, a former world champion with Ferrari, will start from fourth. Home favourite Fernando Alonso had a superb Friday practice for Ferrari but couldn't convert that into a fast Saturday time; the Spaniard starts fifth.
Championship Standings Review
Before the lights go out at the Circuit de Cataluña on Sunday afternoon, a recap of the drivers' championship standings shows Vettel on top with 77 points. Raikkonen is second with 67 points and Hamilton is third with 50. Alonso managed only an eighth place finish in the last race, in Bahrain, and that has dropped him 30 points behind Vettel. So expect the Spaniard to be fired up from the start.
In the race for the constructors' title, Red Bull Racing and Lotus have pulled out a small lead over Ferrari. The Milton Keynes outfit have 109 points to Lotus' 93, while Ferrari have 77. Mercedes are fourth with 64 but will be confident of overtaking the Italians after Sunday's race. Force India have had an excellent season so far and are fifth in the table, ahead of the McLaren-Mercedes team.
Where to Watch 2013 Formula 1 Spanish Grand Prix Live
Live coverage of the 2013 Formula 1 Spanish Grand Prix starts at 11.30am BST on Sky F1. Coverage on BBC 1 and BBC 1 HD starts at 12.10pm BST and radio commentary on BBC Radio 5 live starts from 1pm BST.
Qualifying Review
Rosberg and Hamilton were surprisingly quick in Saturday's qualifying session after appearing to struggle to match the Red Bulls and Ferraris for pace in the practice sessions. The extra-tenth of a second they found over Vettel in Q3 could be because of a lighter fuel load or possibly because the German made a mistake. That remains to be seen. It is interesting to note that Vettel made only one run in the final third of qualifying; both Mercedes and Ferrari made two runs each.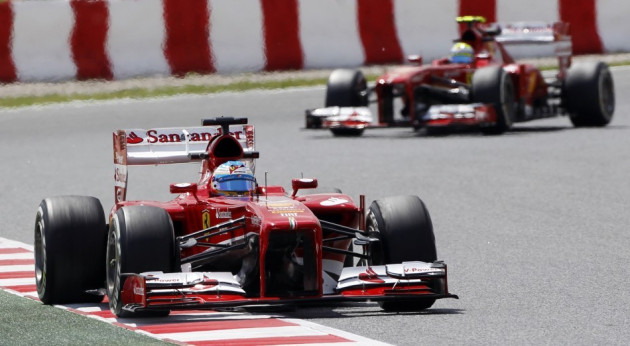 Is Vettel conserving an extra set of tyres for the race? It is certainly possible and he did start Q2 with the same set of tyres he used in Q1. It is also worth noting Rosberg's comment on tyre wear... specifically graining. Tyre degradation is of concern for runners on the Pirelli medium compounds, with di Resta saying he lost grip after 10-odd laps in Friday practice.
Only one driver, since 1997, has won the Spanish Grand Prix without taking pole position. No prizes for guessing that man - Vettel. But when the German did that, he was on the first row, in second place. This time around he will have to find his way past both Mercedes cars, on a track drivers agree is hard to overtake on.
Of course, that doesn't mean Vettel won't be pushing as hard as he can... and when a three-time world champion is pushing then we will probably see quite a bit of exciting racing.
The Ferraris look to be playing a slightly tactical race. That they have outright pace we know. The question is, did they make a mistake in qualifying? Both Alonso and Massa were actually faster than the Mercedes duo up until the final sector, so it could well be that over the course of the race the Italians will claw back that time.
The final analysis is relatively simple. Assuming the weather stays sunny a lot of the race will be decided on tyre wear. Those drivers who can eke out even a couple of extra laps from an old set could wind up with a few tenths of a second in hand and that could prove the difference between first and second.
Weather
After a rain-hit first practice session on Friday, the weather has steadily improved, resulting in a sunny qualifying session. Sadly, we may not be so lucky on Sunday. Forecasts call for air temperatures touching the 20C mark by 2pm local time, with perhaps a touch of rain in the hour before race start.
Will that rain spill over into the race itself? For now, it is likely too, with rain expected almost throughout the afternoon. It will not be a torrential downpour though, which will make the race a particularly challenging one, tactically speaking. Expect winds of up to 16km/h, from a south-south-easterly direction.