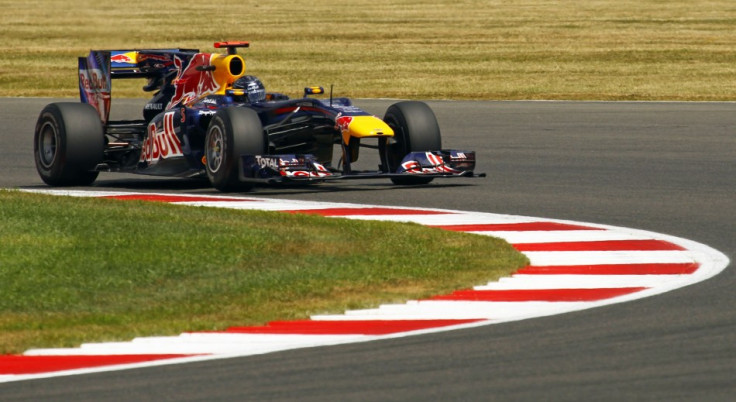 The 2012 Formula 1 World Championship has already seen history being made, with six different drivers winning the six opening races of the season; that record could well be extended this weekend, with McLaren's Lewis Hamilton a strong contender to record his first win of the season. The British driver will, however, have to see of challenges from defending two other former World Champions in Red Bull's Sebastian Vettel and Ferrari's Fernando Alonso, both of whom have demonstrated strong pace all through the weekend so far.
Qualifying Recap:
Red Bull Racing's Sebastian Vettel stormed to a dominant pole position for Sunday's 2012 Formula 1 Canadian Grand Prix, finishing ahead of McLaren's Lewis Hamilton and Ferrari's Fernando Alonso, as the race for the Drivers and Constructors titles starts assuming a somewhat more traditional shape. The defending World Champion lapped the Montreal circuit in a time of 1:13.784 (the only driver to drop below the 1:14.000 barrier all weekend so far) and a comfortable 0.303s ahead of Hamilton, who had championship leader Alonso breathing down his neck for second and only 0.064s off the Brit's 1:14.087 time. Nevertheless, the leading drivers insist they are taking nothing for granted this weekend.
The usual suspects will line up behind the top three - Vettel's team mate Mark Webber (1:14.346), Mercedes' Nico Rosberg (1:14.411) and Ferrari's Felipe Massa (1:14.465). Hamilton's team mate, Jenson Button, meanwhile, continues to endure a miserable Canadian weekend; the British driver was forced to sit out most of two of the three Free Practice sessions with an oil leak and a gearbox problem. He will start tenth, with a best time of 1:15.182. Worse still, the surprisingly long time the team took to repair the car added to rumours of a growing rift between the team and both its drivers. Hamilton has previously suggested his team needed to get their act together, after tactical and pit stop errors cost him dearly in earlier races, while Button has been quoted as saying he was disappointed with the car's outright pace. In any case, for this weekend, it appears Hamilton is the fortunate one of the two; the former World Champion has been in sensational form topping two of the three Free Practice sessions and finishing third in the other.
Other key finishes included a fourth row (seventh) start for Lotus' Romain Grosjean, alongside the impressive Force India of Paul di Resta. Schumacher's qualifying woes returned after an excellent time in Monaco; the seven time World Champion could only manage ninth, with a best time of 1:14.812.
Incidentally, a report by the Daily Mail suggests, rather interestingly, the unpredictable nature of this season's championships and the errors being made by previously seemingly infallible teams means several key drivers could swap places for next season, in a bid to freshen things up everywhere. Ferrari, Mercedes, McLaren and Red Bull may all enter in a give-and-take with their drivers - Massa, Webber, Michael Schumacher and Hamilton being the key players. There have been reports that McLaren are keen to retain Hamilton's services and have offered him a bumper £100mn five year contract.
The Build-up:
Meanwhile, back in Montreal, Red Bull are, unsurprisingly, happy with the qualifying results.
"We were clear about the car today and able to improve step by step in qualifying. I'm very happy with the result and the laps at the end of qualifying, as we were able to improve each time. It puts us in a great place," Vettel said to Formula1.com, while team principal Christian Horner added that despite a problem with Webber's tire blanket on his last run, both drivers did extremely well to finish first and fourth. The McLarens, however, complained of problems in getting their tires up to temperature, with both drivers noting the high temperatures created a few issues.
"Compared with yesterday, things were definitely a bit harder for us out there today, though. It was tough trying to get the tires to switch on properly - today's warmer temperatures made that trickier for us, I think. Still, I'm very happy with our performance and very pleased to be on the front row," Hamilton explained.
The Circuit Gilles Villeneuve is 4.361km long and the drivers will do 70 laps of the track. Pirelli has offered their soft and supersoft compounds for this race, with the latter being the designated option set. There seems to be a general consensus that there is not too much of a performance gap between the two sets of tires, with Auto Sport quoting Pirelli's Paul Hembery as suggesting the supersofts could, theoretically, last for about 30 laps, making a one-stop race a real possibility. The sentiment seemed to be echoed by Lotus' Kimi Raikkonen, who said the smooth track surface of the circuit could allow the supersofts to run longer.
Nevertheless, tire management seems to be the key concern for a number of drivers, with Rosberg and Mercedes' team principal Ross Brawn (as well as Alonso) noting the same. Brawn, like Hamilton, also said that getting the rubber warmed up the right way would be critical.
"I am happy with the way things have gone so far this weekend, especially because the car has proved to be competitive, even on a track which certainly does not suit its characteristics. That is mainly down to the updates we have brought here, which have worked as we expected. Tire degradation will be one of the key factors on Sunday, given the temperatures will be very different to what we saw yesterday afternoon," Alonso explained to Ferrari's official Web site.
Interestingly, as explained above, one team that could bear watching in the race is Lotus. Both Raikkonen and the team's trackside operations director, Alan Permane have spoken on the relative ease with which their car uses its tires, leaving them hopeful of a strong race.
The Weather:
Ambient temperature around the Circuit Gilles Villeneuve, according to Weather 2, will be even higher than the 24 degrees Celsius from Saturday, bringing some teams' concerns over tire temperatures into sharper relief; expect the mercury to rise to the high 20s, probably around 28 or 29 degrees Celsius by late afternoon and early evening. The good news, however, is that there is no rain expected and less than ten percent cloud cover all the way through the day. wind speed could play a factor in the race, given that the circuit's back straight (leading up to the final chicane, the Wall of Champions and the start-finish line) is open to the easterly breeze flowing in off the St Lawrence River. Indeed, the fact the circuit is on a man-made island in the middle of the river means any shift in wind patterns could be problematic. Weather predictions suggest wind speeds should not exceed six to eight kph through the evening and will be mostly easterly or east-south-easterly.
Where to Watch Live:
You can follow the race live (from 5.30 pm BST) on Sky Sports F1 and Sky Sports F1 HD. There will be live text and audio commentary available at the BBC Sport Web site and BBC Radio 5. The highlights package will be available from 10 pm (BST) on BBC One. You can also follow the race live and get real-time information and feeds at the Formula One Web site.