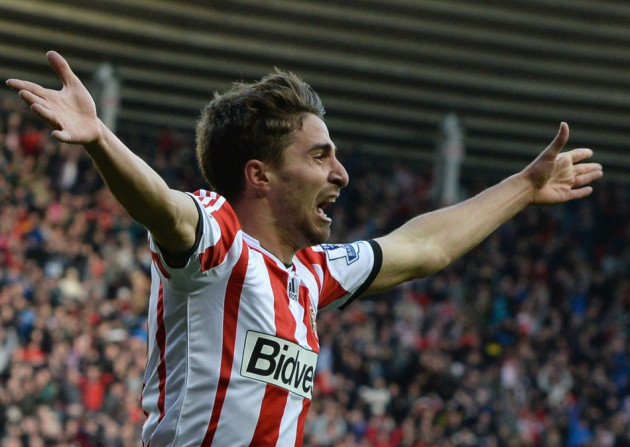 Sunderland loanee Fabio Borini harbours hopes of returning to Liverpool after scoring the winning goal in the Wear-tyne derby against Newcastle United.
The Italian is on loan from Anfield after Brendan Rodgers signed Iago Aspas in the summer and ahead of Luis Suarez's return from a 10 match ban.
Borini joined Liverpool from Roma last summer but injury and loss of form restricted him to one Premier League goal in his opening campaign. After opening his Sunderland account in some style with a late winner against Newcastle at the Stadium of Light the 22 year old hasn't forgotten a potential return to Merseyside.
"There has been a squad revolution there but the worst thing for me was getting injured when I was actually playing at the start of last season," he said.
"I remain a Liverpool player, I'm on loan because there wasn't space for me and after a year of injuries I needed to get my confidence back, to play some games. But my roots are still there."
Despite's Borini's late strike, Liverpool are unlikely to be envious of the forward weekend success, with their own strike force firing on all cylinders.
Luis Suarez and Daniel Sturridge are the highest two goalscorers in the Premier League in 2013, and have formed what is regarded as the most potent strike partnership in the top flight.
Rodgers said in September that due to the presence of Sturridge and Suarez that Borini needed a season away from Anfield in order to rediscover his best form.
"It's just to get games," he said. "He had a stop-start season last year with his injuries and I just felt this year he needed to go and play football.
"With Daniel Sturridge, Luis Suarez, Iago Aspas and some of the other attacking players, that might have been limited.
"I have a real belief in Fabio - he is a talent and we've seen that on occasions, but he needs to be playing regularly to demonstrate that talent.
"We had a host of clubs wanting to take him, but with Sunderland having the Italian connection there and being a big club where he can go and play, I'm sure he'll get the chance to shine and we'll look closely at his development this year."