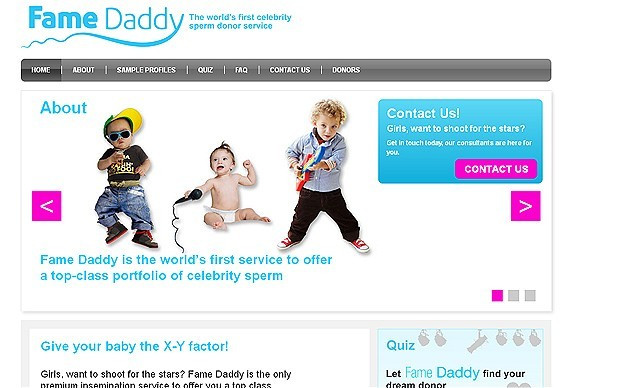 ITV has revealed that This Morning was a victim of a hoax after the boss of what was purported to be a start-up celebrity sperm bank appeared on the breakfast show.
The broadcaster admitted that Dan Richards, the so-called CEO of Fame Daddy, the "first celebrity sperm donor service", was an imposter.
After launching an investigation, show bosses discovered that Richards did not run a website but was working for a TV production company.
ITV apologised to viewers who were "deliberately misled by this stunt".
Richard had claimed that Fame Daddy would offer celebrity-obsessed women the chance to have a child with a famous high achiever.
Its websites insisted that for a minimum £15,000 fee would-be-mothers could have their pick from its roster of sperm donors which it claimed would include footballers, actors, rock stars and men from privileged backgrounds.
Its sample profiles featured an Oscar-winning actor worth £10m, a member of the House of Lords and an ex-Premiership League footballer.
"What we are selling is the sperm of people who are successful, who have risen to the top of their field," Richards told the Good Morning hosts Phillip Schofield and Holly Willoughby.
A link to the controversial interview was pulled from ITV's website.
"There is no doubt it was an incredible tale," Schofield told viewers.
Willoughby added: "There was something not quite right - it was so unbelievable."
The broadcaster said that the orchestrators of the hoax had gone to great lengths to deceive the show's producers. "They also managed to convince other media, appearing on radio and in newspapers," it said.
"ITV make every effort to ensure the legitimacy as well as the authenticity of all guests. We carry out a range of checks, which in this case included verifying that this company was legally registered, and we did the interview in good faith."