The mother and father of Peter Kassig, also known as Abdul-Rahman since his conversion to Islam, have asked for some space to "mourn, cry, forgive and heal" following their aid worker son's beheading by Islamic State.
Speaking outside the family home in Indianapolis, Indiana, Ed and Paula Kassig each read out short, dignified statements in which they described the pain and sadness caused by their only child's loss.
Ed Kassig said: "A while ago, we were informed that our beloved son, Abdul-Rahman, no longer walks this earth. Our hearts, though heavy, are held up by the love and support that has poured into our lives these last few weeks."
After reading out a moving tribute written by Peter's teacher Paula Kassig adds: "Our hearts are battered, but they will mend. The world is broken, but it will be healed in the end. And good will prevail as the One God of many names will prevail."
Finally Ed Kassig says: "Please pray for Abdul-Rahman, or Pete if that is how you knew him, at sunset this evening. Pray also for all people held against their will in Syria, Iraq, and around the world. Lastly, please allow our family the time and privacy to mourn, cry - and yes, forgive - and begin to heal."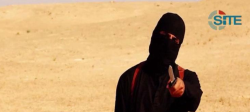 Kassig's parents have already asked news outlets not to circulate stills of the video which began circulating on Sunday. On the same video some 18 Syrian officers and pilots were seen being beheaded by Briton "Jihadi John" and a number of Isis militants. The notorious murderer, who is also thought to have beheaded Britons Alan Henning and David Haines and Americans James Foley and Steven Sotloff, is the only killer in a mask, leading to hopes that some or all the others will be quickly identified.
Hopes that one of the militants had been identified as former medical student Nasser Muthana from Cardiff, but the 20-year-old's father Ahmed - who originally said he thought it was Nasser and if so should be "executed" - now says he does not believe the man in the footage is his son.
A number of other aspects to the video are unfamiliar. Peter Kassig does not make any statement before his death, leading to speculation that he refused to be the mouthpiece for his killers - in fact only his head is shown. Unusually the scene of the multiple execution is also revealed as Dabiq in northern Syria, a place which has a special resonance for the fanatics.
Usually at the close of similar videos the next person to die is paraded, but that has not happened. This could be because there are no more Western hostages, or that the only ones left are a 26-year-old woman, which even Isis may not want to show being killed on a video, and journalist John Cantlie, who the group may decide has more value to Isis while still alive.