A Brazilian family is praying for the continued recovery of a "miracle" baby who survived even after being hit by a bullet in his mother's womb.
Claudineia dos Santos Melo was just days away from her due date when she was shot by a stray bullet from a shootout in a Rio de Janeiro slum on 30 June. She was shopping for nappies when the bullet entered her hip and hit her unborn child, causing injuries in a number of places including the baby's spine.
Melo is in stable condition now and is breathing without aid. But the child, who was named Arthur, remains in critical condition. He was delivered by emergency caesarean, but is now paraplegic.
"We had never seen this before," Rafael Lopes, the head surgeon at the Moacyr Rodrigues de Carmo hospital in Rio de Janeiro said, explaining the miraculous survival of baby Arthur.
"Today, he is paraplegic, but anything can happen in the life of this child," gynaecologist José Carlos Oliveira, who is monitoring Arthur's progress, said. He called his survival "a miracle happening before our eyes."
According to reports, Arthur's whole family has come to the hospital to see the child, who has shown tremendous fighting spirit.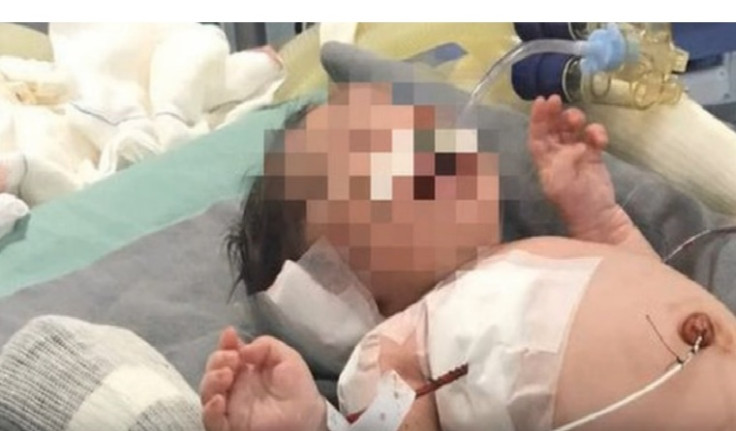 Klebson da Silva, the baby's father, told the BBC that he was filled with hope after seeing "victorious" Arthur.
Arthur's maternal uncle Leonardo dos Santos (brother of Melo) said: "I want to see the baby grow strong and walk and run alongside the family. The relatives here are all praying together."
Meanwhile, it was reported that Arthur's mother would give her statement to police from hospital on Tuesday (4 July).
The investigation into the shooting is on and police believe that Melo and her baby were accidentally shot by criminals, and not by officials fighting against them.
Incidents of deaths and injuries from stray bullets are a common occurrence in most Brazilian cities where exchange of gunfire between officials and heavily-armed drug gangs occur on an almost regular basis.
At least 66 people have died or have been injured by stray bullets in the Rio metropolitan region from January to mid-May in 2017, a survey in Folha de Sao Paulo newspaper said.