Melissa McCarthy has confirmed that she will not be reprising her role as Gilmore Girls character Sookie St James in Netflix's upcoming revival series, despite avid fans of the show hoping that she would. She explained the reasons why in a recent interview, suggesting that it was more a case of confused schedules, rather than it being a case of she wasn't wanted back or didn't want to return herself.
"I don't think I am [returning]," McCarthy explained to E! while promoting her new film The Boss. "I didn't actually get asked to do it. But I think they thought I was busy, and then by the time it did come up, then I actually was."
Despite the 45-year-old seemingly missing the boat on the revival, she couldn't be happier that it is making a comeback. She added that she will make sure to "watch every single one" of the episodes when they land on the streaming service later in 2016.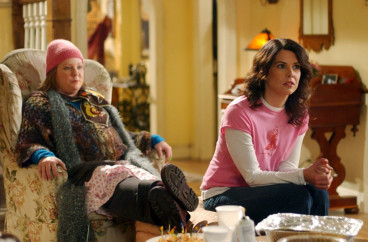 "I'm actually thrilled that it's happening," she confessed. "I loved that show, and I think the fans for that show are super loyal and great. "
Netflix officially announced that it had closed a deal with both Warner Bros Television and original showrunner Amy Sherman-Palladino to create four new 90-minute episodes to be hosted exclusively on its platform back in late January. However, there has been no specific date set yet as to when the revival will debut.
Lauren Graham and Alexis Bledel are returning to portray leads Lorelai and Rory Gilmore respectively, alongside Kelly Bishop, who will once again play Lorelai's mother Emily. Scott Patterson will be back as love interest Luke Danes, while Milo Ventimiglia will once again be bringing Luke's nephew Jess Mariano to life. Keiko Agena, Matt Czuchry, Jared Padalecki are also reprising their roles.
So would McCarthy ever consider stepping back into Sookie's kitchen if the mini-series was to carry on and the timing worked out later on? It seems like the answer could be yes given her, somewhat joking, response: "I want to cook again. I want to put salt and then stir. That was seven years of my life and it was really great. I was proud of that show."
Since her long stint on hugely-popular show Gilmore Girls, McCarthy has paved an impressive cinematic career in comedy for herself, having appeared in movies, such as Bridesmaids, The Heat and most recently action caper, Spy. She will next be seen on the big screen in Paul Feig's Ghostbusters reboot opposite Kristen Wiig and Saturday Night Live stars Kate McKinnon and Leslie Jones.
For more entertainment news follow A-List on Twitter @Alistinsider