Faryal Makhdoom claims she is 'the voice of every abused woman' in Facebook post
Amir Khan's sister has denied the bullying allegations made by Makhdoom.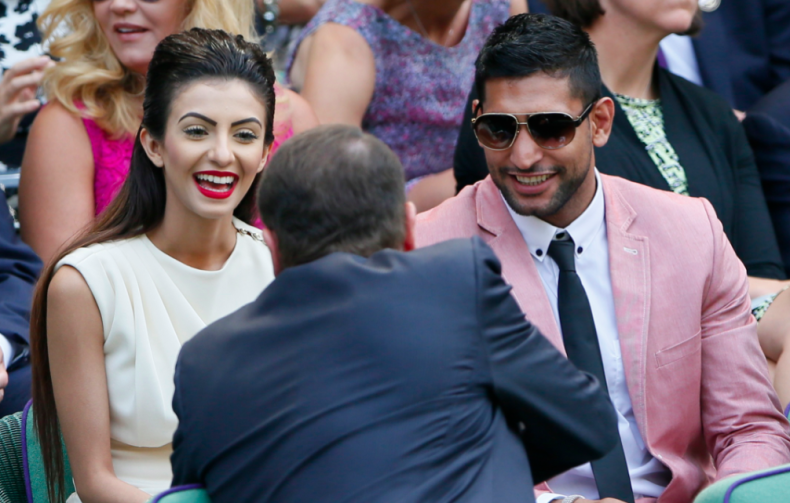 Amir Khan's wife has insisted she will not stay silent following allegations that she has suffered abuse by her in-laws.
Initially making the allegations in a highly-charged Snapchat rant, Faryal Makhdoom Khan, 25, who married the boxing champion in 2013, hit out at her in-laws accusing them of "ill-treatment" and "bullying."
The cosmetics entrepreneur has now reiterated her claims in a Facebook post, describing herself as the voice of "every abused woman" and adding that her husband is standing by her as she speaks out.
Writing on her Facebook page, she said: "There are many women who suffer in silence due to ill treatment from the in-laws. This dark side is usually kept hidden.
"We need woman at all levels, including the top, to change the dynamic, reshape the conversation, to make sure women's voices are heard and heeded, not overlooked and ignored.
"I am every abused woman's voice and I am grateful for my husband's support throughout my ordeal.
"I am an entrepreneur with a successful makeup brand, my own career and fierce independence, I continue and will continue to break stereotypes," she added.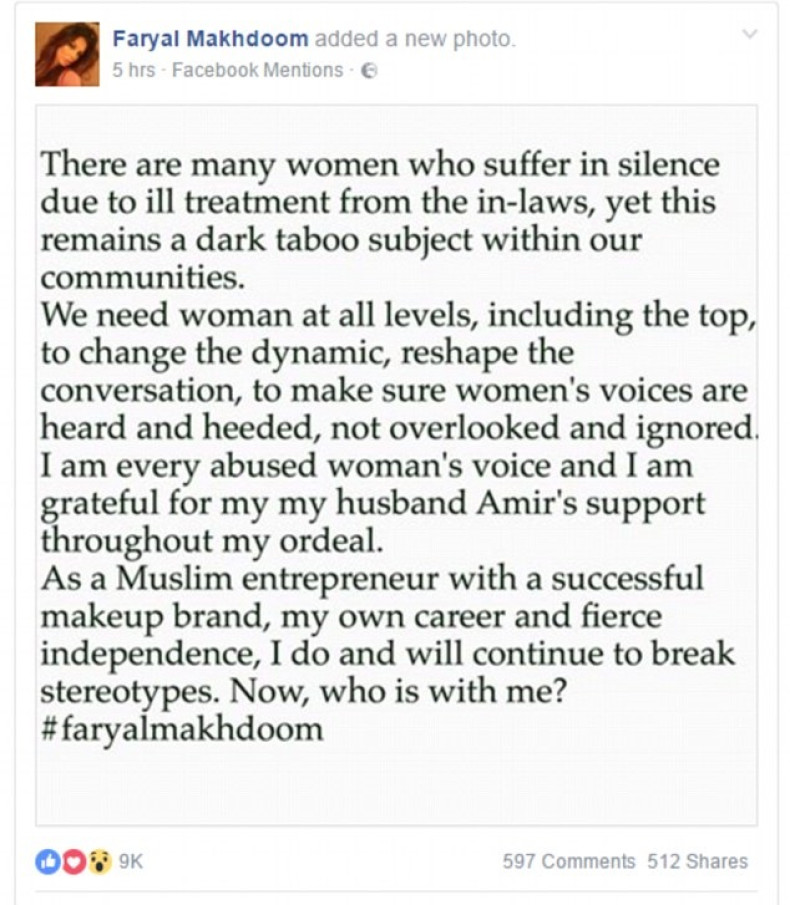 According to Mail Online, the model also alleged that Khan's parents Falek and Shah had tried to break up their marriage. Faryal and Amir live with his parents and his brother Haroon at the family home in Bolton.
Boxing champion Khan spoke of his close relationship with his family in a 2014 interview with The Guardian, revealing that the entire clan "still all eat together most nights".
Faryal, who has a two-year-old daughter with Khan, alleged that the family take advantage of her husband, describing their treatment of him as "disgusting". "My husband has done farrrrr more than any son has done. And far more than any brother has done. But why is he treated so bad? Jealousy? That's disgusting."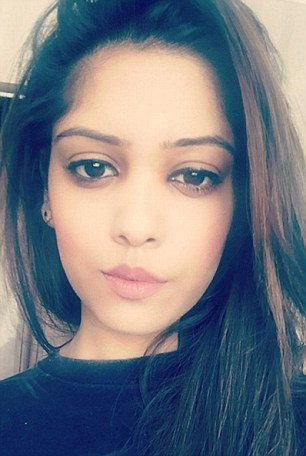 Amir Khan's sister Mariyah responded to the allegations posting a selfie with the message: ''Do I look like I can beat someone up"
Mariyah Khan /Snapchat
The 25-year-old further alleged that her "evil, hating sister-in-law" Mariyah "came to hit" her while her husband was not at home.
In her Snapchat rant she said: "What about when your sisters-in-law come to hit you when your husband is not home and still you don't raise your hand out of respect for your husband! Then they think it's okay to bully you in public and call you BAD! Get the f**k out of here."
Khan's sister Mariyah responded to the allegations posting a selfie with the message: ''Do I look like I can beat someone up?"
In another message she added that she "didn't need to justify herself on social media as "Allah is watching".'
Khan's brother Haroon also appeared to respond to the allegations, posting on Twitter: "The world knows how good the khan family is #saynomore."
Khan has maintained his silence amid the public row between his wife and his family.