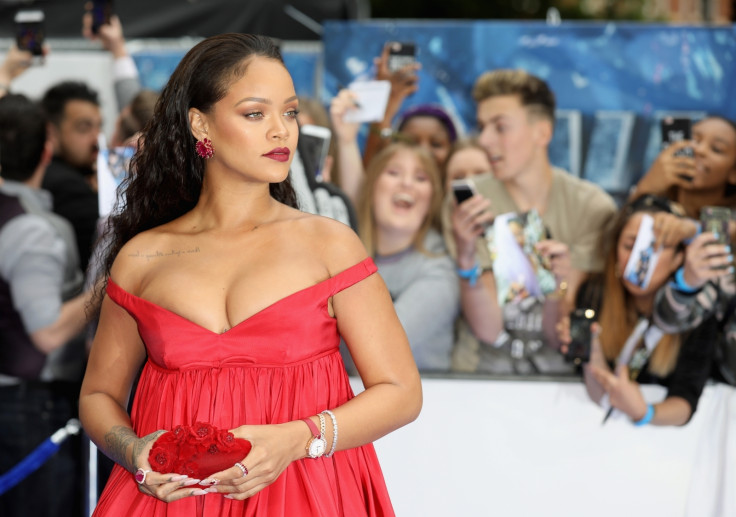 After a busty red ballgown, pop star Rihanna opted for a cleavage-baring two-piece attire for the premiere of her latest film Valerian and The City of a Thousand Planets in Paris on Tuesday (25 July).
While the Bajan beauty's daring sartorial choice made an impression, she also became the target of brutal online trolls as she shared snaps of the blue-carpet event with her fans on Instagram.
Riri's figure-flaunting outfits attracted several comments, but many seemed to focus only on the Diamond hitmaker's changing physical appearance. So much so, some viewers appeared to be fatshaming the songstress for getting "thick".
"She looks fat!!! Why riri? Go on diet," one Insatgram user commented, while others speculated if the 29-year-old is pregnant, suggesting, "baby on the way".
As the frenzy continued over Riri's appearance, one of her fans even tried to advise her on maintaining the right weight. "She could tone up a little. Cloths fit us thick girls s little funny and i wouldn't want her to lose her spot as a fashion icon," said a user.
Some even dragged her alleged new romance into the mix.
"What did that Saudi man do to you Rihanna?" a curious fan asked. But most of her loyalists backed her as they slammed fatshamers for targeting Rihanna.
"Fat? Whats wrong with you, Cara is super skinny, and so Rihanna looks a bit bigger," one of them wrote, referring to the Work hitmaker's photo with her Valerian co-star.
Another Riri fan supportively penned: "Where is she fat?!? Yes she's gained a little but it looks like it went to ALL the right places! Y'all be quick to judge someone behind technology. I wish I had her body!"
In the past few months, the Barbadian singer has created a stir for all the right reasons. Instead of a superskinny look, Riri has been flaunting her glam style during red carpet events, and admirers can't seem to get enough of her curves as they call her, "Thicker than a snicker".