The FBI obtained a Foreign Intelligence Surveillance Act (Fisa) warrant last summer to monitor the communications of Carter Page, the former adviser of Donald Trump, as part of an investigation into possible links between Trump's campaign and Russia.
US officials and law enforcement told The Washington Post that the FBI and the Justice Department obtained the secret court order after convincing a judge on a Foreign Intelligence Surveillance Court that there was probable cause to believe Page was acting as an agent for Russia.
The government's application for the Fisa warrant to monitor Page included a declaration that formed the basis for investigators believing that Page was an agent of Moscow and that he knowingly engaged in clandestine intelligence activities on behalf of the Russian government. Officials said the application cited contacts Page had with a Russian intelligence operative in New York City in 2013.
Page's contacts with Russian operatives surfaced earlier in a federal espionage case against another Russian agent, the Post reported. Officials said that the application also stated Page had other contacts with Russian agents that have not been made public.
According to the Post, a Fisa application does not need to provide evidence of a crime. However, information obtained through monitoring can be used to open a criminal investigation and may be used to prosecute an individual.
Officials said that the 90-day warrant has been renewed more than once by the Fisa court.
Page, who was identified by Trump as a foreign policy adviser to his campaign, has not been accused of any crimes. It remains unknown whether the Justice Department will seek to charge Page or any others in connection to Russia's campaign to influence the 2016 presidential campaign.
According to The Post, news of the warrant is the clearest indicator that the FBI had reason to believe that a Trump campaign adviser had communicated with Russian agents. Officials are now investigating such communications to determine whether the campaign colluded with the Russian government to influence the election in Trump's favour.
Officials said a counterintelligence investigation into Russia's campaign to influence the elections began in July 2016.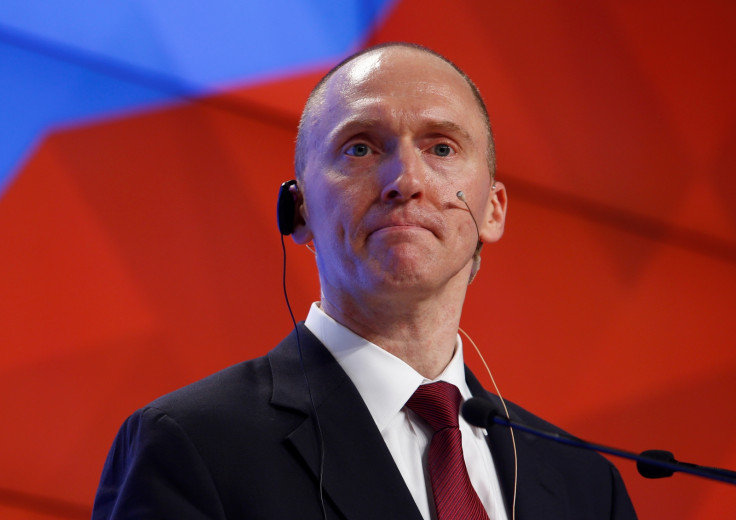 In an interview with The Post, Page denied any wrongdoing in his involvement with Trump's campaign or Russia. "This confirms all of my suspicions about unjustified, politically motivated government surveillance," Page said. "I have nothing to hide."
Page then compared the FBI's surveillance of him to the eavesdropping the agency and the Justice Department did of civil rights leader Martin Luther King Jr.
In a separate statement to Fox News, Page said: "I was an obvious target because no one has been more thoughtful and methodical in their criticism of the Clinton/Obama administration foreign policy."
The FBI, Justice Department and White House declined to comment, The Post reported.