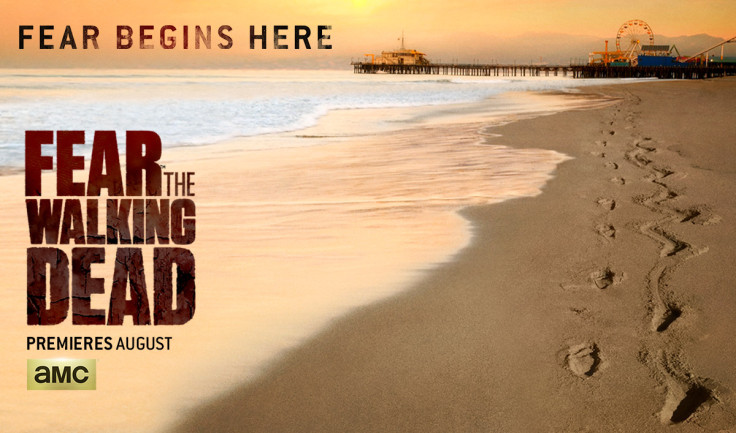 AMC has released the poster of Fear the Walking Dead for the San Diego Comic-Con 2015 with the tagline "Fear begins here" and teasers of the upcoming show somewhat prove that the series would indeed be creepy.
The poster has oddly formed footprints along a sandy beach in Los Angeles, hinting that the mysterious flu may be turning humans into zombies.
In spite of the horror quotient showrunner Dave Erickson insists that the upcoming AMC original series is a family drama.
"Ultimately, it's a family drama" Erickson told EW. "One of the things that Robert [Kirkman] and I discussed from the very beginning was, we're starting a little earlier in the apocalypse. And what that allowed us to do in the pilot and Season 1 is establish our core family, establish the problems and the conflicts that they have, and really let that be the initial world that we live in."
The series will explore the relationship between Madison (Kim Dickens) and co-worker, Travis (Cliff Curtis). Apart from exploring her romantic cohabitation, Madison is also having a tough time managing her dysfunctional family consisting of her son Nick, a drug-addict dropout and daughter Alicia, an assiduously overachiever.
The show will proceed to focus on the relationship between the lead cast as they try to fight the horror flu and the walkers.
"We layer in the onset of the apocalypse, we layer in our first walkers, but it's really an effort to exacerbate the problems that already exist with Kim Dickens' character and Cliff Curtis' character and their sort of dysfunctional blended family. It's really filtering the apocalypse through that," Erickson explains.
All the trailers of the upcoming zombie horror series hints at the arrival of a doom on humanity. But civilians along with the lead cast, however, seem to be unaware of the looming danger.
Robert Kirkman, the creator of FTWD, has already made it clear that the show will not discuss the real reason behind the zombie outbreak, but the trailer was everything about the flu, flu shots and dead walkers lurking under trees.
Fear the Walking Dead season 1 premieres in August this year. The date of its release has not been declared as yet.