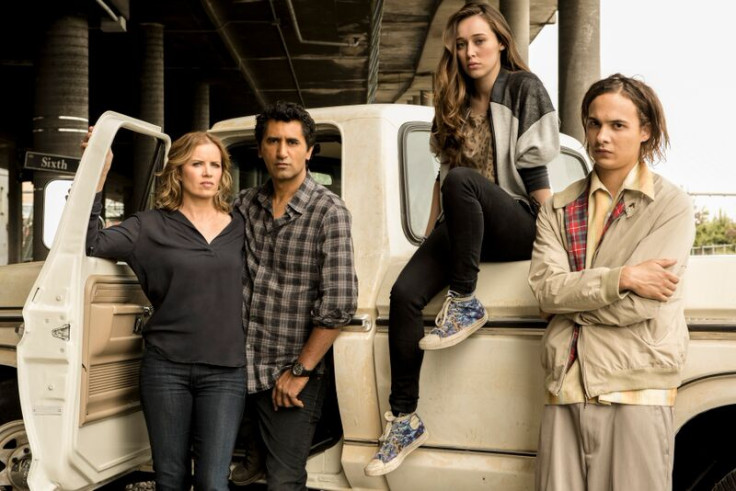 The long wait is over for viewers in the UK as zombie apocalypse series Fear The Walking Dead will finally air on BT's AMC channel tonight (31 August). The first episode of The Walking Dead spin-off, which stars Kim Dickens and Frank Dillane, will be broadcast at 9pm on the network while Freeview customers will also have access via BT Showcase on channel 59 and Sky customers can also watch free of charge on channel 192.
Fear The Walking Dead debuted in the US on 23 August to record-breaking numbers, becoming the biggest premiere on US cable TV history with a staggering 10.1 m viewers tuning in. Venturing away from Rick Grimes, Daryl Dixon and co in Atlanta, the spin-off focuses on the Clark-Manawa family in Los Angeles just before the virus strikes.
The UK premiere of the series forms part of a new line-up of hit shows to be shown on BT's AMC over the coming season, including TV shows Breaking Bad and Mad Men, as well as films such as Only God Forgives starring Ryan Gosling and The Beaver starring Jodie Foster.
Speaking about the exciting developments, BT TV and BT Sport managing director Delia Bushell, said: "BT customers will soon have exclusive access to some of the most anticipated new original series and movies as part of AMC's launch later this week. We're looking forward to showcasing the most compelling new content from one of the world's most celebrated TV channels for audiences in the months ahead."
Watch the Fear The Walking Dead season one trailer:
The first season of the spin-off series will run for six episodes but a second season has already been confirmed to air in 2016. Executive producer Greg Nicotero told the IBTimes UK in April 2015 that Fear will not be a "carbon copy" of the original. He explained: "It's really fascinating. What we've been able to do is we've been able to craft a show that lives in a universe but feels like a completely different show.
"We didn't want a carbon copy of The Walking Dead because that wouldn't be prudent. I just don't think it would have made a lot of sense. So having the show set in Los Angeles [and] at a completely different time as walkers are beginning to take over the world... The idea, much like our show, it's really about the relationships and about the families and how they handle it and deal with it, so it's fascinating."