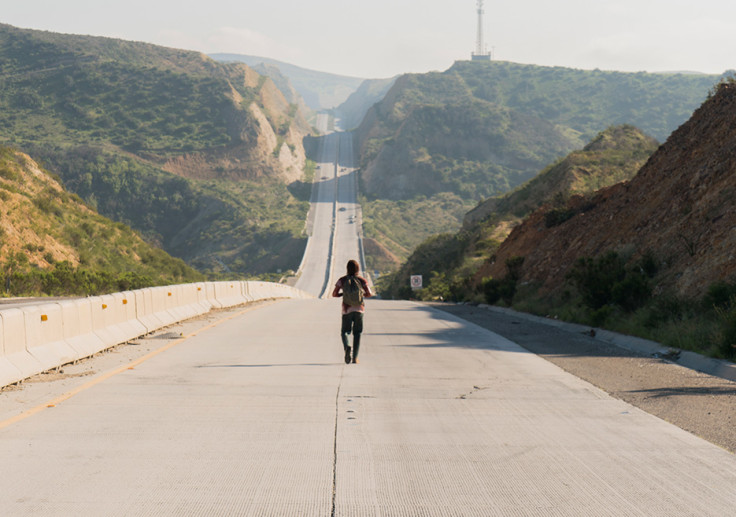 The second part of Fear the Walking Dead season 2 is delivering one gripping episode after another. While the first episode focused only on Nick and his insane survival strategies, the second episode was all about Madison, Strand, Alicia and Ofelia's search for Nick before they find a safe harbour.
However, their search for supplies in a doomed hotel proved fatal as Ofelia went missing and an intoxicated Madison and Strand were surrounded by the zombies in the hotel lobby. The latest promo for episode 3 titled Do Not Disturb shows the brave side of Alicia.
Madison's daughter was the least reactive person to the zombie infected world but throughout the second season, she not only learned the survival tactics but also formed strong opinions about the right and the wrong. In the promo, she gets trapped among the undead walkers while searching for Ofelia. In a bit to evade the attack, she jumps onto an elevator shaft and holds herself up there to get rescued.
The synopsis of episode 10 teases a new character, who might save Alicia from the hungry zombies.
The official episode description reads: "Travis has a hard time connecting with Chris while looking for shelter; Alicia meets a woman with a bloody past."
The upcoming episode is expected to reveal the whereabouts of Travis. He chose to leave Madison and group in order to help his son Chris who is slowly getting consumed by the apocalypse. But it appears Travis has a difficult road ahead to connect with his son and find a safe shelter.
Fear the Walking Dead will return on AMC on 4 September at 9 pm EST.