Sir Alex Ferguson has attempted to downplay Everton's victory over Manchester United by claiming the Toffees 'lumped' the ball towards match-winner Marouane Fellaini.
The Belgian midfielder caused United problems all evening, and rose above Michael Carrick to head in the winner after 58 minutes to seal an opening Premier League win for Everton.
After his United side were outmuscled and outfought at Goodison Park, Ferguson was keen to devalue Everton's achievement by attributing their success to nothing more than their direct style of play.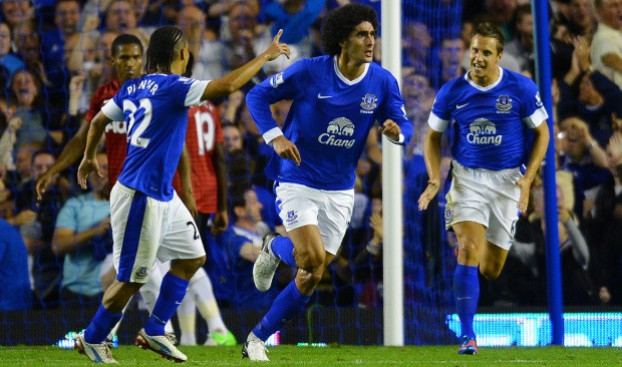 "Fellaini is a handful," Ferguson said. "He's a big, tall, gangly lad and they just lumped the ball towards him all the time. That's all they did and they worked it from that base. But he got the goal for them so it's justified."
United's task of dealing with the physicality of Fellaini was made tougher by the absence of centre-back quartet Rio Ferdinand, Chris Smalling, Phil Jones and Jonny Evans, with Carrick required to deputise at centre-back alongside returning captain Nemanja Vidic.
"That is a problem but we coped quite well, I don't think you can criticise their performance," Ferguson added.
"It was just difficult to handle him [Fellaini] when they were knocking these balls up to him. Michael did fine. He was good on the ball and applied himself well, they all did.
"I don't think any will be fit for Saturday, hopefully Jonny Evans is getting near to be able to start. With a good week's training it will bring him on a bit and in a couple of weeks he will be okay."
The win represented Everton's first victory on the opening day of a Premier League campaign for five seasons and just their third in ten terms in the top flight.
Having finished seventh in the league last season, ahead of Merseyside rivals Liverpool, the victory gives Everton fans reason to be optimistic they can repeat the feat and even compete for a place in Europe.
However, Moyes, who celebrated 10 years at the helm last season, remains realistic following the win over United but admits victories against Midlands duo Aston Villa and West Bromwich Albion in the coming weeks can spark an assult on the Premier League's top six.
"This result does not mean we have started the season well - it wouldn't have meant we had started badly had we lost," Moyes said.
"The one year I remember us having a good start (in 2004-05) we ended up qualifying for the Champions League. I don't know whether it will be possible for us to do that but if we can get a good start, we can start thinking about other things than chasing those above us.
"In the first half, David de Gea made a couple of great saves," the Scot added. "When we didn't have the ball we defended well and I thought what we had to do. It was an all-round good performance. We are a tough team to beat at Goodison.
"United tried to find a way of getting back into the game, which was inevitable, but we defended the lead well. I thought Phil Jagielka was outstanding. I wasn't surprised Van Persie didn't start. I didn't expect him to."