Fernando Alonso held off a charging Sergio Perez to win the Malaysian Grand Prix, with Lewis Hamilton coming home third in a race that was red flagged for an hour due to heavy rain.
The opening lap saw Lewis Hamilton maintain his first place, with team-mate Button close behind. After getting off the line well, Roman Grosjean came together with Michael Schumacher, spinning the German around without damage. Meanwhile, Sergio Perez found himself in third place.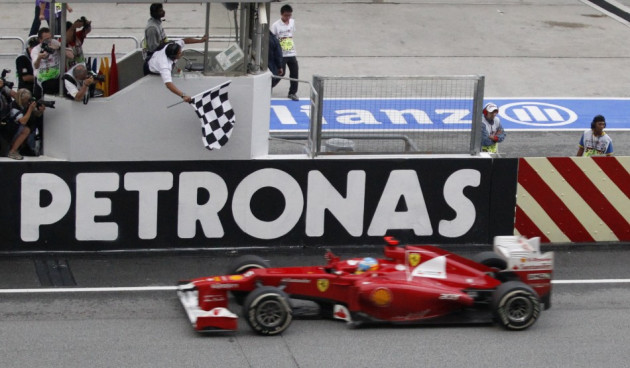 Having all started on intermediate tyres, the entire field pitted for extreme wets in the opening laps after the heavens opened at the Sepang circuit.
Heavy rain, lightening and thunder followed, played havoc with the track's warning systems and commentary boxes and forced a safety car.
The race was eventually red flagged on lap nine, resuming behind the safety car an hour later once the weather had improved. The safety car came in on lap 13 and from then on the track conditions gradually improved.
Most of the field followed the safety car in on lap 13, opting for the immediate tyres thanks to improving track conditions.
Hamilton lost time in the pits due to a stuck rear jack and was forced to let traffic past in the pit lane before rejoining the track.
Hamilton's poor stop gave Alonso the lead and McLaren's race went from bad to worse on lap 16 when Button ran into the back of Karthikeyan's HRT, forcing the Briton to pit for a new front wing and dropping him down to 20<sup>th place.
While conditions continued to improve, Button was unhappy with his tyres and reported poor front end grip to his team who were unable to help. Button pitted for a second set of intermediates on lap 24 and began to show better pace.
From then on it was all about Perez and race-leader Alonso, with the young Mexican hunting down the Ferrari driver, taking chunks out of his lead with every lap as the track dried.
The storming performance from Perez in his Sauber comes at a good time for the Mexican, after rumours earlier in the week suggesting that he will soon move to Ferrari, replacing the poorly performing Felipe Massa, but Ferrari has since denied this speculation.
Massa continued to show the gap in performance between himself and team-mate Alonso. While Alonso won the race it what is widely regarded as a poorly performing car, Massa could only manage 15<sup>th.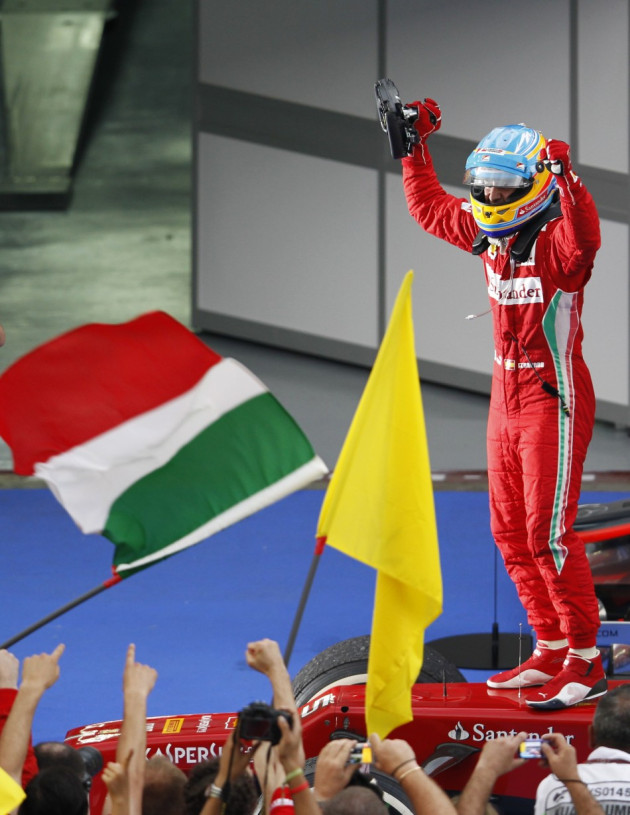 Either way, the strong second place finish - which could have been a win if Perez didn't run wide on lap 50 - will provide a much needed financial boost for the Sauber team and highlight Perez as a title contender of the future.
Lap 38 was when drivers began to pit for slick tyres, but Perez stayed out one lap longer than Alonso, having hunted down the Spaniard relentlessly. Sadly for Perez, he lost time on the extra lap and left the pits five seconds behind Alonso.
It was a quiet race for the reigning world champion Sebastian Vettel, failing to improve on his sixth place achieved in qualifying. The German suffered a puncture of his left rear tyre on lap 48, but soon after having it replaced the Red Bull team ordered Vettel to stop the car due to "an emergency". However, Vettel continued to cross the line in 11<sup>th place.
As with Australia last weekend, a strong performance from Pastor Maldonado ended in failure, after he suffered engine problems and had to retire two laps from the end.
Team-mate Bruno Senna put in a strong performance in the Williams finishing sixth and demonstrating that the team is much improved from 2011, where they failed to score a single point.
Kimi Raikkonen also had a good race, bringing the Lotus home in fifth place, having started tenth due to a five-place grid drop after changing his gearbox earlier in the weekend.
Alonso now leads the Drivers Championship and heads to the Chinese Grand Prix in three weeks with a five point lead over Lewis Hamilton, who is five points ahead of team-mate Button in third.
Provisional Race Results:
Classified:

Pos  Driver        Team                       Time
 1.  Alonso        Ferrari                    2h44:51.812
 2.  Perez         Sauber-Ferrari             +     2.263
 3.  Hamilton      McLaren-Mercedes           +    14.591
 4.  Webber        Red Bull-Renault           +    17.688
 5.  Raikkonen     Lotus-Renault              +    29.456
 6.  Senna         Williams-Renault           +    37.667
 7.  Di Resta      Force India-Mercedes       +    44.412
 8.  Vergne        Toro Rosso-Ferrari         +    46.985
 9.  Hulkenberg    Force India-Mercedes       +    47.892
10.  Schumacher    Mercedes                   +    49.996
11.  Vettel        Red Bull-Renault           +  1:15.527
12.  Ricciardo     Toro Rosso-Ferrari         +  1:16.800
13.  Rosberg       Mercedes                   +  1:18.500
14.  Button        McLaren-Mercedes           +  1:19.700
15.  Massa         Ferrari                    +  1:39.300
16.  Petrov        Caterham-Renault           +     1 lap
17.  Glock         Marussia-Cosworth          +     1 lap
18.  Kovalainen    Caterham-Renault           +     1 lap
19.  Maldonado     Williams-Renault           +    2 laps
20.  Pic           Marussia-Cosworth          +    2 laps
21.  Karthikeyan   HRT-Cosworth               +    2 laps
22.  De la Rosa    HRT-Cosworth               +    2 laps

Fastest lap: Raikkonen, 1:40.722

Not classified/retirements:

Driver        Team                         On lap
Kobayashi     Sauber-Ferrari               47
Grosjean      Lotus-Renault                4

World Championship standings, round 2:                

Drivers:                    Constructors:             
 1.  Alonso        35        1.  McLaren-Mercedes           55
 2.  Hamilton      30        2.  Red Bull-Renault           42
 3.  Button        25        3.  Ferrari                    35
 4.  Webber        24        4.  Sauber-Ferrari             30
 5.  Perez         22        5.  Lotus-Renault              16
 6.  Vettel        18        6.  Force India-Mercedes        9
 7.  Raikkonen     16        7.  Williams-Renault            8
 8.  Senna          8        8.  Toro Rosso-Ferrari          6
 9.  Kobayashi      8        9.  Mercedes                    1
10.  Di Resta       7
11.  Vergne         4
12.  Hulkenberg     2
13.  Ricciardo      2
14.  Schumacher     1