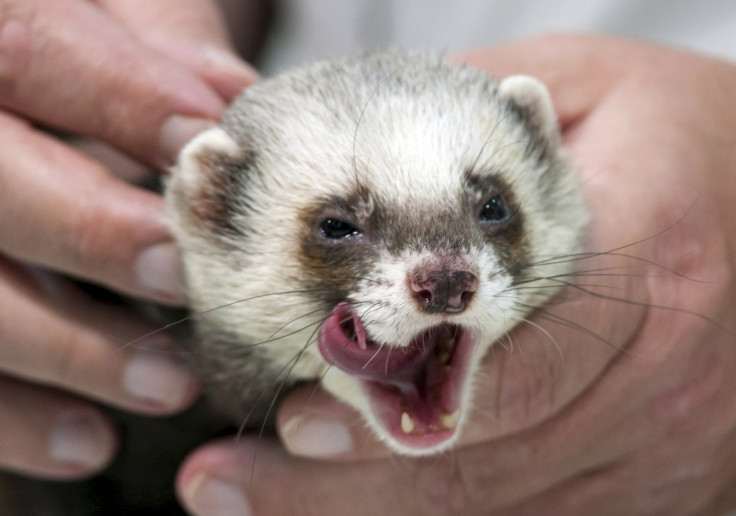 A one-month-old baby was found being "eaten alive" by a pack of ferrets.
The three pet ferrets which escaped from a cage tore off the baby's nose and part of her lip and cheek in Darby, Pennsylvania, said police.
The baby girl is in a stable condition after undergoing reconstructive surgery at the Children's Hospital in Philadelphia.
"I'll be 45 years in June in Darby (with the police department), and this is the worst I've ever seen," borough Police Chief Robert Smythe told The Times Herald. "I thought I've seen everything. This child, the center of (her) face is missing. Her nose was gone, (and so was) part of her cheek and part of her lip. I don't know how much of that got replaced."
She was attacked in a car seat after her mother went upstairs, and her father slept, said Smythe.
The ferrets ran away after the mother heard the baby's screams and went downstairs.
Four other young children living in the home have been placed in care, after concern about the parents' ability to take care of them.
"The parents, I believe, have problems. They are challenged. They can't take care of these kids," said Smythe.
Authorities found the home infested with mites and in disrepair. There was more food in the home for the ferrets and pet cats than for the children, said Smythe.
Police have asked prosecutors to approve charges against the parents.
"Just imagine that one-month-old baby, that can't help herself, (and) two or three animals are eating it alive," he said. "Imagine the pain."
Several child services agencies were working with the parents before the attack, reports CBS Philadelphia.
A healthy, well-trained ferret will not bite but needs to be taught acceptable behaviour like any other pet, the American Ferret Association said.
It said that ferrets and children can play well together, but that young children should not be left unsupervised around any animal.