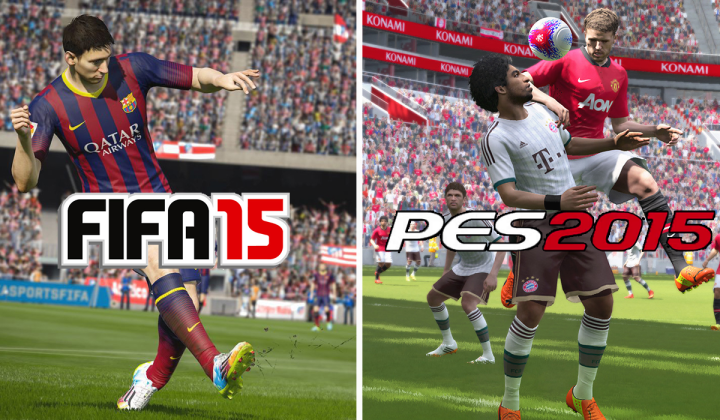 Ten years ago, Fifa and Pro Evolution Soccer's rivalry hit the dizzy heights among gaming's greatest. During the last console cycle, however, Konami and PES lost their way, leaving Fifa to overtake and far exceed the quality and success of its adversary.
With little rivalry in terms of sales, Fifa flourished where once PES and its near-perfect gameplay was the more popular title.
Back then, the allure of licensed players, clubs and stadia simply wasn't enough in the face of PES's exceptional gameplay.
Eventually Fifa worked its way to the top, backing up its realism with great gameplay as PES struggled to find a foothold on the new systems. By the end of the console cycle, it had found its old form but Fifa's sales were insurmountable.
This year, both series will occupy the same next-gen consoles for the first time and I was lucky enough to play them at this year's Gamescom in Germany. Here's what I thought...
---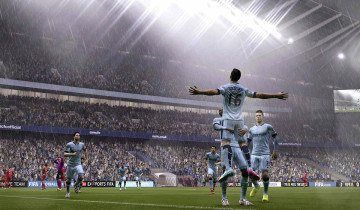 Fifa 14 has been a constant presence in my PS4's disc drive for many months, my brother and I playing it on a regular basis.
Usually returning to a game so often shows how much we enjoy it but in the case of Fifa, it's entirely about the competitive aspect and sibling rivalry.The game itself often leaves us hugely frustrated.
The problem with last year's Fifa, though, was it always felt like you were fighting the game itself, rather than simply trying to beat your opponent.
It would always be trying to think ahead of you, switching players pre-emptively and passing the ball to areas it felt you had intended, when possibly you did not.
It was as though the game thought it was a better player than the actual player, when all that's required are the tools to show off the player's complete ability – no matter how good or bad they are.
Fifa 15 has made improvements in this regard. Players were switched for us on far fewer occasions and the gameplay by and large felt much more free – but there were still hangovers from its predecessor.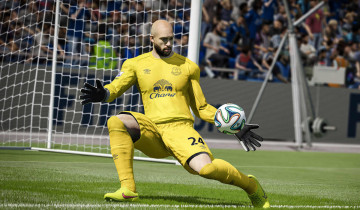 There were also many signs that the game's biggest new gameplay feature – an overhaul of the goalkeepers – might have a big negative impact. You'll notice the difference instantly.
Goalkeepers now parry rather than catch the ball a lot more often, even in positions when catching it makes more sense.
While in real life keepers often punch a ball away that could have been caught, here it happened far too often.
It was as though Fifa 15 was keen to show off its new feature, even though it was of little benefit to the player.
One goal I conceded was scored by Marco Reus from close distance, tapping it in with little effort as the keeper stood and watched.
Not exactly a promising showcase for "next-gen goalkeeping" and a waste of Tim Howard in a motion-capture leotard – as shown proudly at EA's Gamescom press conference.
PES 2015, on the other hand, was much more impressive. Playing it I instantly felt more free, the choking feeling of Fifa now gone.
Gameplay was more fluid and fast thanks to Konami's Fox Engine – which powers Metal Gear Solid V – introduced to full next-gen effect here. Konami boasted to me that PES was more about fun and individual play than accuracy for accuracy's sake - as it proved in action.
Many PES fans will claim realism doesn't matter as long as the underlying game is fun, and to an extent that is of course true.
However, EA's comprehensive licensing agreement does mean a lot to its whole package and for players, it will always be better to play as Arsenal rather than North London just as it's better to see the look of dismay on Joe Hart's actual face than one that sort of, maybe looks like him.
This has a negative effect on PES's look. Fifa simply looks and is presented better, which in the case of the player models at least is down to Konami having to look close to the real deal without creating an exact likeness.
PES 2015 is about recapturing that old magic and positioning the series as a viable alternative to EA's Fifa.
On the basis of the few games we played with each, PES is back within close range of its competitor.
It plays better and is a little smoother but lacks the presentation quality of Fifa, making it more of the connoisseur's choice.
In the case of Fifa, the latest version feels like little has been done to resolve key issues with the still fairly robust gameplay.
Cosmetic additions such as having all 20 Premier League stadiums are impressive in their own way but more needs to be done to fix the engine under that pretty bonnet.
Fifa 15 is out on 26 September and Pro Evolution Soccer 2015 is out on 13 November.