London Fire Brigade (LFB) have warned about a rise in "Fifty Shades" emergencies this Valentine's Day as the number of call outs to men trapped in penis rings has almost doubled in the last year.
The rise in the number of incidents where people were compromised by daring sex acts has taken place in spite of an LFB campaign to make Londoners more conscious of the risks inherent in putting their genitals into foreign objects.
From April 2016 firefighters have attended to nine penis ring removal incidents, which is the same number as the previous two financial years (2014/15 and 2015/16) combined. They have attended to 23 handcuff incidents so far this financial year compared with 15 in 2014/15 and 27 in 2015/16.
London Fire Brigade Director of Operations Dave Brown said: "It seems the 'Fifty Shades of Grey' effect is still leading to some call embarrassing call outs."
In the last five years the capital's fire crews have been called out to 102 incidents involving people being trapped in handcuffs and 23 instances of men with rings stuck on their penises.
in February 2015 a man was forced to undergo surgery to remove a metal ring that had been stuck on his penis. Firefighters used pedal cutters – a hydraulic piece of cutting equipment – to free him from the ring.
LFB are using Valentine's Day to increase awareness about the dangers of becoming "stuck in things" – this includes incidents of a sexual nature and other more mundane mishaps.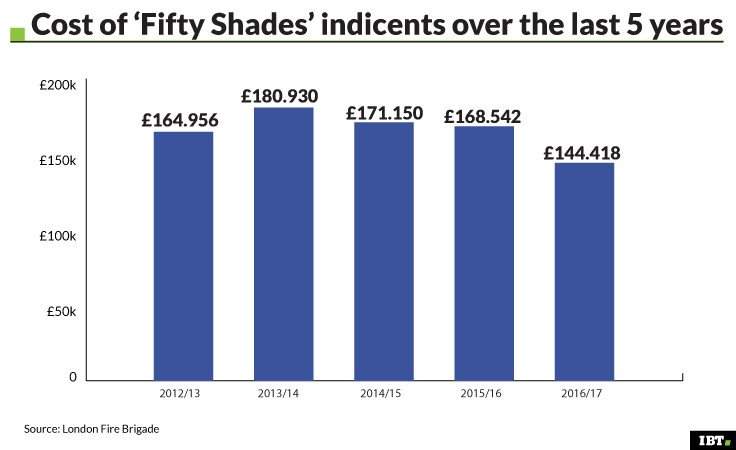 They have collated the data for all such incidents – including people's fingers becoming stuck in ordinary rings and children becoming stuck in toys – and collated them to show that "Fifty Shades" incidents have cost the taxpayer £830,000 in the last five years.
However, the number of incidents and the associated cost have fallen. Brown said: "We're pleased that fewer people are getting themselves stuck in difficult situations and reducing call outs."
He added: "Our advice is simple. If the ring doesn't fit, don't force it on. As well as being painful, you could end up wasting emergency service time if you have to call us out."
The sequal to Fifty Shades of Grey, Fifty Shades Darker hit UK cinemas on Monday (13 February). IBTimes UK has rounded up all the reviews.