California Declares State of Emergency as Yosemite Fire Threatens San Francisco's Water and Power [VIDEO]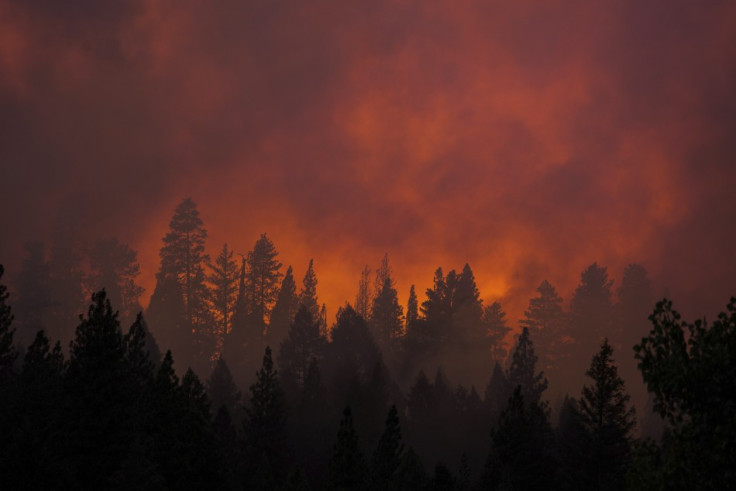 A wildfire that has spread into California's Yosemite national park is threatening to cut off power and water supplies to San Francisco, prompting authorities to declare a state of emergency.
The Rim Fire, which started in Stanislaus National Forest, north-east of Yosemite, almost doubled in size over Thursday night to 164 square miles (424 square kilometres), and has now destroyed 11 thousand acres (424 square kilometres) of forest.
More than 2,000 fire fighters are battling the blaze, which is believed to be only 2% under control.
It has prompted San Francisco Public Utilities Commission to close three of the four hydroelectric stations serving the city, which is 200 miles west of Yosemite.
The fire is raging four miles away from the Hetch Hetchy reservoir, and if authorities are forced to shut off water supplies, 2.6 million people could be affected.
Park spokeswoman Kari Cobb insisted that there were no plans to close Yosemite, with the fire 20 miles away from Yosemite Valley.
One of four highways into the park has been closed, and already thousands of visitors have fled.
"This fire, it's killing our financial picture," restaurant owner Corinna Loh told the Associated Press. "This is our high season and it has gone to nothing. We're really hurting."
So far, the fire has destroyed four homes and 12 outbuildings, but its growth on Friday prompted authorities to warn that 4,500 homes were now threatened, up from 2,500 earlier in the week.
Lee Bentley of the US Forest Service told CBS News earlier this week: "We've got a monster on our hands. This fire is making its own weather.
"It's going every which direction. This is one of the worst I've ever been on. I've been doing it for quite a few years."
Arid conditions have fuelled 50 wildfires in the west of the US, with the US Fire Service spending $967 million battling blazes in Idaho, Utah, Colorado and California so far this year.
The service has been forced to divert an extra $600 million to fighting fires and with crews badly stretched chiefs have opened talks with the Pentagon and Canadian fire fighting authorities about the possibility of support.
Watch amazing aerial footage of the blaze on YouTube, below:
© Copyright IBTimes 2023. All rights reserved.