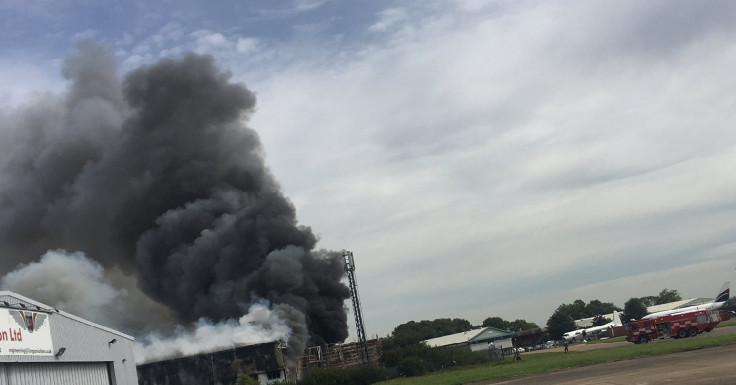 Firefighters tackled a huge blaze at Southend Airport in London after a hangar caught fire following an explosion.
Pictures shared on social media showed thick black smoke billowing from an Air Livery hangar on the north side of the airport in Essex.
The fire broke out just after 10.30am on Wednesday (16 August) and six fire engines rushed to the scene. The airport continued to operate its normal schedule while firefighters extinguished the blaze.
A Southend Airport spokesman said: "Essex Fire and Rescue is currently dealing with an incident at the Air Livery hanger on the north side of the airfield. London Southend Airport is still open and operating as normal."
"Firefighters are using an aerial ladder platform to pour water on the large building from above. The officer in charge at the incident reports crews are making good progress," a spokesperson for the fire service said.
In March 2016, more than 70 firefighters were called to put out a huge fire on an Air Livery hangar at Norwich International Airport. The hangar contained two planes filled with more than 5,000 litres of aviation fuel. The hangar opened its doors again six months after the fire.