A firefighting supertanker is set to arrive in Israel from the US to douse raging wildfires that have already forced the evacuation of tens of thousands of people. The Boeing 747 Supertanker is considered the largest firefighter aircraft in the world.
Following a formal request from Prime Minister Benjamin Netanyahu for its deployment, the massive firefighting plane will land in Israel on Friday, 25 November, to handle waves of wildfires that have been spreading across the country for the past few days. The plane, operated by the Global SuperTanker, which could also douse the fire during night, could carry up to 74 tonnes of water or any flame retardant.
"It needs to be understood that the firefighting planes currently being used are not able to operate overnight. There is only one plane that has this ability, and that is the Supertanker. I instructed that it be brought here. It will take 24 hours to come from the US. We only use it in extreme situations. We don't use it for everything but I prefer that we have too much rather than too little," said Netanyahu.
Fanned by strong winds, the fires are quickly spreading in many parts of Israel. Nearly 80,000 people have fled their homes. The blaze has already entered Haifa, Israel's third largest city, and is threatening to destroy homes in Jerusalem and the West Bank. More than 2,000 acres of land are estimated to have been razed by the fires until now.
Dozens of fire crews and several planes have been battling to bring down the inferno with little success so far. Netanyahu has also sought help from other countries to contain the situation. Israel has accepted an offer from the Palestinian Authority for four firefighting teams to take part in the operations.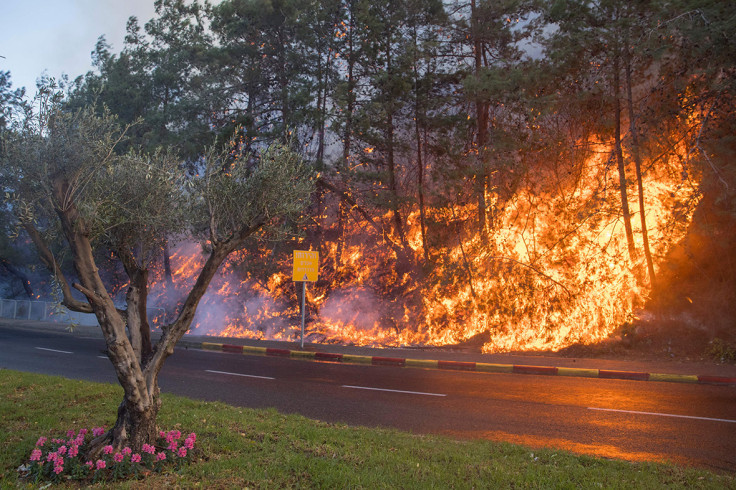 However, the arrival of the supertanker has come in for criticism from some quarters. "This is a matter of politics and less of an operational need. We weren't given the opportunity to express ourselves on the matter," a senior member of the rescue services was quoted as saying.
Meanwhile, Israeli authorities have accused Arab and non-Jew arsonists for the fires and reportedly called it an act of "terrorism". At least eight individuals, four of them Arabs, have been taken into custody on suspicion of politically motivated arson.