With just a few months to go until the eagerly-anticipated sci-fi is released, 20th Century Fox has unveiled the first official clip for Alien: Covenant starring James Franco, Katherine Waterston and Michael Fassbender. Despite the film itself being directed by Ridley Scott, the filmmaker behind the 1979 original, the five-minute short was actually helmed by Scott's son Luke and serves as a "meet the crew," exposition-filled sequence for fans.
And it certainly gives a fair bit away too! As there's not exactly much horror to distract your thoughts here – unlike in the previous trailer – you can't help but concentrate on the characters, and notice that they're all coupled-up and wearing wedding bands. There are reportedly around seven different relationships amongst the characters, including these pairings; Carmen Ejogo and Billy Crudup, Danny McBride and Amy Seimetz, Demián Bichir and Nathaniel Dean, Jussie Smollett and Callie Hernandez and finally, Waterston and Franco.
Speaking at a Fox Showcase earlier this year, Waterston detailed that "most of the people on the ship are couples. And then there are all of these colonists who are in a cryo-sleep."
In the sneak peek, Fassbender's new android Walter can be seen gearing up the crew to go into cryo-sleep themselves before Franco's captain Jake Branson declares he's "feeling kinda queasy" and is going to turn in early. Sounds pretty ominous, as those who feel unwell in Alien films never seem to last long but never-the-less, after the departure of their boss, the gang rally round and start drinking and playing poker.
While it may look like a jovial scene on the surface, it's evident that not all of the characters get along when Crudup's character starts calling McBride's Tennessee a "drunk jerk" behind his back. Waterston's Daniels soon brings the mood back up however but delivering a rousing speech: "You've all sacrificed so much to be here, to be a part of this. The first-ever, large scale colonisation mission, to go this far into our galaxy.
"We're making history and everyone back on Earth is really grateful for your hard work and your courage. I just wanna say, I couldn't pick a better bunch of jerks to get marooned on a distant planet with. So, to the Covenant!"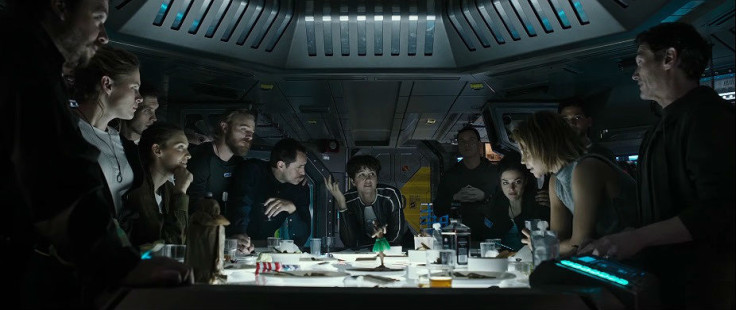 Also starring Noomi Rapace and Guy Pearce (both of whom don't appear in the movie's opener), Alien: Covenant centres on the crew of a colony spacescraft, who travel to an uncharted paradise. Soon after they arrive there however, they discover the land is dark and dangerous and the "sole" inhabitant is android David (Fassbender, also reprising his role from the 2012 film). But of course, it doesn't take them long to find out that there's also some extraterrestrials lurking about to wreak havoc too.
Alien: Covenant will be released in both the UK and the US on 19 May 2017.
For more entertainment news follow A-List on Twitter @Alistinsider