Amid the dark and grisly storylines, there is fresh excitement on Coronation Street next week as Helen Flanagan reprises her role as Rosie Webster for the first time since 2012.
The 26-year-old actress – who first joined the ITV soap in 2000 – is back with a bang and looks better than ever on her return, with some sneak peek scenes being released by Corrie bosses.
Clad in a pink fur coat and leopard skin boots, Flanagan will no doubt add some spark back into Weatherfield with her portrayal of the loudmouth character Rosie, gracing the small screen once again on Monday night (6 February).
Looking glamorous and full of fun, it all begins well as Rosie appears on the doorstep of her family home with big suitcases, and rumour has it that it won't be long before she gets her hands on a new man.
On coming back to the soap, Flanagan said: "She has a fling, but I don't know who with yet. It'll be interesting to see who she hooks up with. I enjoy Rosie being in a relationship because you can really play off that," Radio Times reports.
Her character will immediately get into trouble with police following her return from America with sister Sophie (Brooke Vincent), as she is suspected of drug trafficking.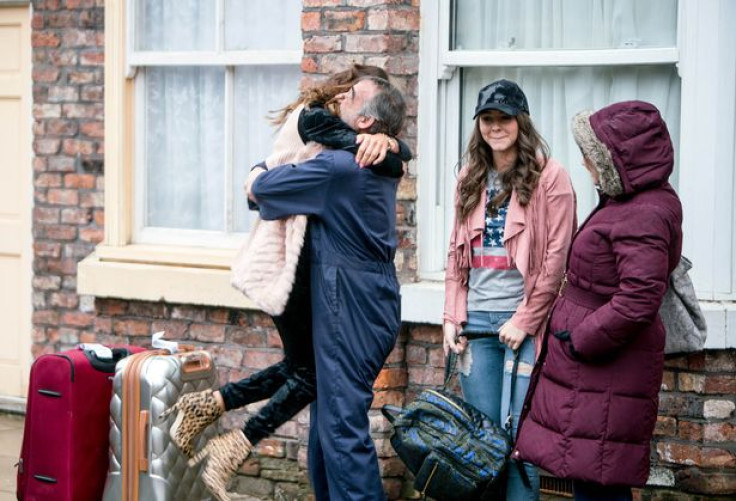 In next Friday's episode, Rosie will catch the eye of Adam Barlow, but Flanagan doesn't believe anything serious will come of it.
She added: "There's a spark and an instant attraction between Rosie and Adam Barlow, but I don't know what will happen between them. He's a bit of a wolf and a womaniser and I don't think Rosie would be very happy about that. I don't think he's very nice either!"
Speaking to The Mirror, Flanagan also claimed that being a new mother to daughter Matilda has changed her for the better. She said: "When I left, I wasn't too sure what I wanted to do. I just knew I wanted to have a break," Helen says. "I was 21 and I'm 26 now, so it's completely different.
"I've matured and I've got a little girl, which makes you grow up a lot. I see it completely differently now I've come back. When I was younger I enjoyed it but didn't really appreciate what a good job I had. When you go away for a while it can make you really appreciate it," she continued.
Flanagan – who is in a relationship with footballer Scott Sinclair, 27 – is officially due back in the soap for just a few months, though she claims she would like to stay longer.
Discussing her career so far, she said: "I don't think you can regret anything you've done because you just learn from everything, but I'm really glad to be back now. I would love to stay for a little bit longer because I am really enjoying it. We'll see. At the moment I'm really content here."
Coronation Street continues at 7.30pm on Wednesday night (1 February).