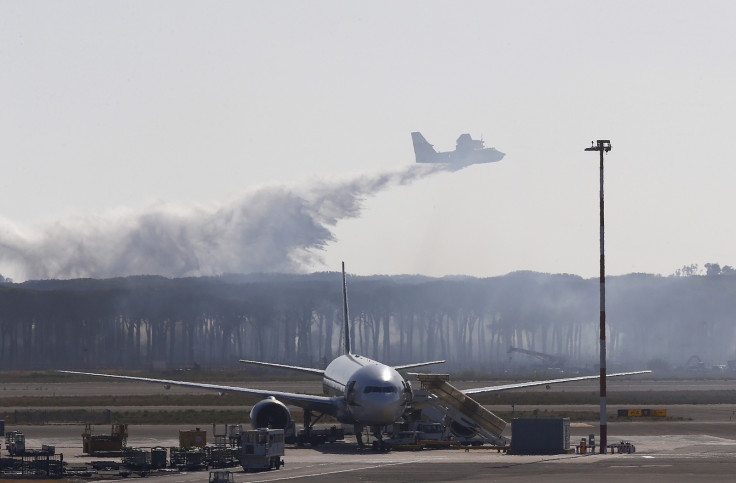 Police have been called to Rome's main airport to calm down holidaymakers infuriated at flight delays and cancellations that hit the international hub for a second consecutive day, as power cuts added to disruptions caused by a wildfire.
Videos uploaded online depicted chaotic scenes, with airport staff shoving screaming travellers as spontaneous chants of protest erupted across the terminals. Security forces had to intervene to protect employees at the information desk, which had been surrounded by an angry mob of passengers.
"Shame on you, we have been here for eight hours," an exasperated tourist could be heard yelling at three deskworkers. "I have a little child ... you should be jailed!"
The lack of proper communications on flights' status, which resulted in prolonged, draining delays, seemed to be the main cause of irritation among passengers.
Problems started yesterday (29 July) when wildfire broke out in a bush area near the Leonardo da Vinci–Fiumicino Airport. Fuelled by strong winds, the blaze moved to a nearby pine grove, forcing the airport to temporarily close operations in the afternoon, as thick smoke loomed over the runaway.
Delays were announced but some passengers waited up until midnight before only then finding their flight had been cancelled. Many slept at the airport, waiting to be boarded.
The next morning a blackout left the airport in the dark for more than 20 minutes. The power cut didn't impact air traffic control but caused disruption inside the terminal, adding to passengers' frustration.
Firefighters were called to free two people stuck inside an elevator, while air conditioning was off at length in Terminal One, leaving travellers exposed to Italy's summer heat. Emergency services had to intervene to help a person who fainted and another one who suffered an epileptic fit.
Italy's flagship carrier Alitalia cancelled a total of 37 flights over the two days, La Repubblica newspaper reported, and the company's CEO threatened to move its hub to another airport. Silvano Cassano said disruption caused by another fire that engulfed Fiumicino in May had cost the airline more than €80m (£56m, $87m).
"Fiumicino Airport in its current state is not an appropriate infrastructure to serve as the hub of an airline with our ambitions," he said. "The problems of Fiumicino come from years and years of inadequate investment and planning and are now structural, we hope there will be less attention to finance and more attention to the market and to passengers' needs
"If Fiumicino will continue to focus on low-cost carriers and mediocre services, Alitalia will be forced to shift its growth elsewhere".
Meanwhile, Italy's aviation authority has summoned representatives of both Alitalia and airport operator Aeroporti di Roma. Separately, authorities opened an investigation into yesterday's fire to ascertain whether it was a case of arson.