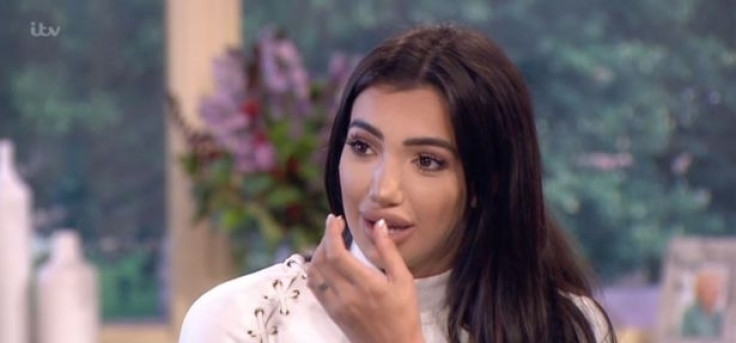 Reality star Chloe Khan is not having a good day.
The 26-year-old former Playboy model showcased her botched nose job on This Morning, which she claims she cannot breathe or smell out of.
Former Celebrity Big Brother star Chloe has spent thousands of pounds on cosmetic surgery and recently underwent a second nose job in aid of facial perfection, but is left unhappy with the results and says she "hates having surgery".
She says that she went to a Ukraine surgeon she found on Instagram and revealed it was "a disaster from the get-go" – and even woke up during the surgery.
Chloe is hugely disappointed with the results of her new nose, which she has to tape down 20 hours a day. Despite this, the model took to her latest Instagram snap to vent her frustrations in the comment section after the interview, blaming her make-up for looking "a million times worse" than she usually does.
Attributing her off appearance to her make-up for the day, she told her followers: "It's the makeup that f**ked me up . I was let down last min with mua and then it had to get done in the car . My face was about ten shades lighter than my skin colour and I looked like s*it . So yah thanks for pointing that out bye . F**k new team . Sticking to my slay people now .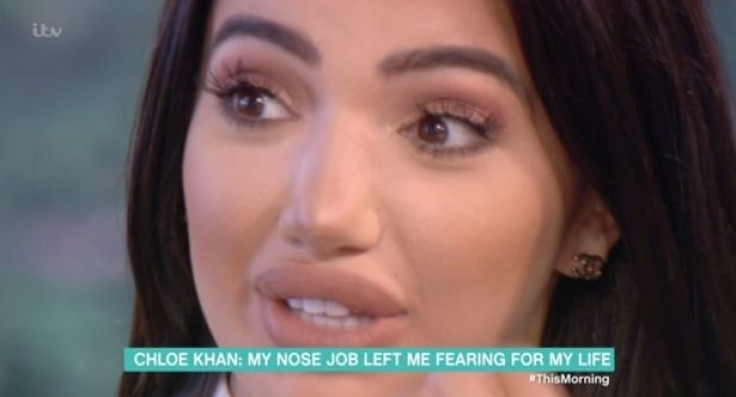 She added: "I was crying on voice not to my bf before I went on because I looked so sh*t I can't even say how upset I am . I should of just done my own makeup but I didn't bring any to London because I had mua booked. My lips and face is not f**ked it was the makeup . I haven't had lip fillers in well over a year and when I did it was only 1 mil . I'm so pissed with today seriously fuk this sh*t . Answering some of the twitter twars"
Commenting numerous times again, she added: "I looked a million times sh*tter than I usually look" before writing another one saying: "I wouldn't leave the house looking like that".
Further blaming the make-up artist, she continued: "I'm so pissedd because not only did she turn up hours late . Fair enough trafic whatever . Then we had to do it in the car . I can get over that no problem but then I looked like actual sh*t so".
Despite her fury, fans were quick to reassure the star that she looked great, with one person telling her: "You looked gorgeous stop kicking yourself so hard! Fucking hell girl remember those snog marry avoid days!!"
Another said: "Chloe I honestly thought you looked gorgeous without the makeup and I'm not just saying this to make you feel better. You looked beautiful ❤❤❤"
Chloe had a different attitude on today's programme, however, telling Eamonn Holmes and Ruth Langsford: "This is the best it's going to look, as it's still the morning.
"But it starts swelling and getting wider throughout the day, so I have to use a roll of medical tape on it."
"I can't breathe, I wake up with nosebleeds, I can't smell perfume or anything," she added.