The Flash season 2: Earth 2 glimpses and Cisco's Vibe; five things to expect in episode 3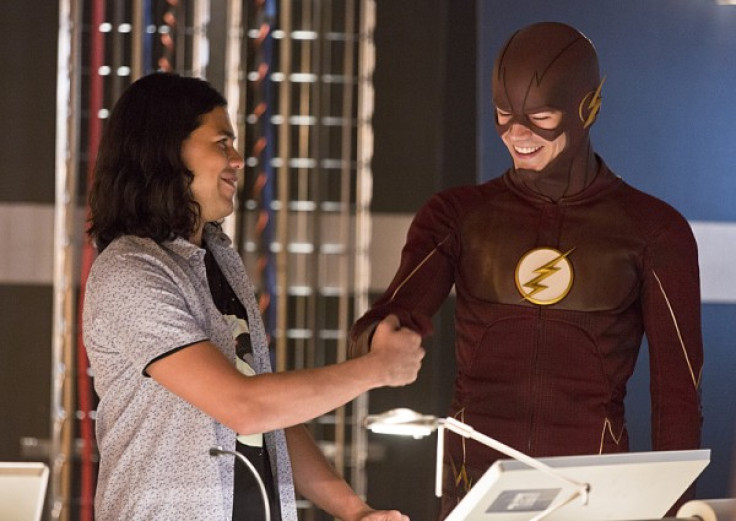 Flash season 2 is keeping fans on the edge with its twists and turns. In the last episode, the genius team had a difficult time wrapping their heads around Jay Garrick's truth about Earth 2, and how he had been a speedster in his world, but had been stripped off his powers by Zoom.
Of all the people, Barry took the longest time to trust Jay, especially after Dr Wells's betrayal. In Barry's words, "The last person who said he wanted to help me, killed my mother." However, in the end, they team up to fight a new meta human named Sand Demon sent by Zoom. The most memorable moment was when Patty Spivot calls out "Flash?" and fans see both the Scarlet Speedster and Crimson Comet coming to her rescue.
Throughout the episode, Cisco struggled to control his powers to see into alternate time. He came clean to Dr Martin Stein, who promised to keep its secret from everyone. However, by the end, Dr Stein collapsed, Joe's wife aka Iris's mother shows up in Central City, and in a different universe we get a look at Harrison Wells as the STAR Labs founder.
Here are a few things you need to know about Episode 3 [Spoilers Ahead]
1. The third episode of The Flash season 2 is titled, Family Of Rogues, which will air on Tuesday 20 October at 8pm ET on The CW.
2. Michael Ironside guest stars as Lewis Snart aka Captain Cold's abusive father. In the episode, Barry (Grant Gustin) and the team find out that Captain Cold (Wentworth Miller) has been kidnapped, and they form an uneasy alliance with his sister, Lisa Snart (Peyton List) to help him. However, they later find that Cold will doublecross the Flash and plan a heist with his father.
3. Joe (Jesse L Martin) is faced with a difficult decision after his ex-wife Francine (played by Vanessa Williams) shows up in Central City. Candice Patton, who plays Iris West, teased the West family dynamics and talks about her mother showing up in Central City.
Patton told Variety: "People know by now that Mama West is going to be making an appearance and we have to deal with how Iris finds out about her mother. There's a lot of family strain in the West house. It's a lot of new information and a lot for Iris to process, but it makes for really good TV. "
"I think people will be happy to see more of the West family coming to fruition this season... I know nothing about the Wally West storyline, I haven't even seen him on set yet, so I think we're just about to get into that," the actress added.
4. The episode will give us a glimpse of Jay Garrick's life on Earth 2. Teddy Sears, who plays the Crimson Comet Speedster, teased that episode 3 will reveal more about his life in an interview with Entertainment Weekly. "This is a tiny tease for [episode] 3, but he begins to speak more about getting his powers, what that was like, what that meant for him personally and professionally."
"My sense from that is that Jay Garrick was a scientist, a practicing successful scientist, chemist, physicist, and suddenly he gained these abilities, which allowed him to do the work he was setting out to do as a scientist that much faster. It was incredibly gratifying for him. He could help people in a way as a speedster exponentially than he ever could as a lowly scientist. Now that he finds himself without his speed, he begins to lament how things were and struggling with, "What do I do now? Who am I without my speed?""Sears added.
5. Cisco will get a better grip on coming to terms with his new powers. Let's not forget the moment he said, "I have a Vibe," as he takes further steps towards becoming his alter ego Vibe. Although he opened up to Dr Stein, he is still not comfortable sharing it with the rest of the team.
A promo shows Stein telling Cisco, "This ability you have is a gift, the very thing that makes you different. That's what makes you special," hinting that perhaps Cisco will finally accept his abilities.
© Copyright IBTimes 2023. All rights reserved.