Earth 2's speedster Jay Garrick arrived in Central City in The Flash season 2 premiere episode with a grave warning. Fans will learn more about the new enemy Zoom, who threatens the universes in the upcoming episode of the Flash titled, Flash Of Two Worlds airing this Tuesday, 13 October at 8pm ET on The CW.
Click here to watch the episode online on The CW's website.
Actor Teddy Sears who plays Earth 2's Flash says Jay Garrick is a "battle-tested guy" in an interview with Entertainment Weekly. "My take on Jay is he's a guy who's been around. He's been in some battles. He's definitely world weary. Jay has seen his fair share of fights.
Sears teased that Jay is much more experienced than newbie speedster Barry. "He's experienced his fair share of the best and worst of what it means to be a speedster — all the good it can do, all the enemies that one can make. I think being a battle-tested guy, he has more of a handle on what it means to have these powers, whereas you have Barry very much still struggling with questions of identity and how close should he let someone into his heart? There's a nice duality set up there."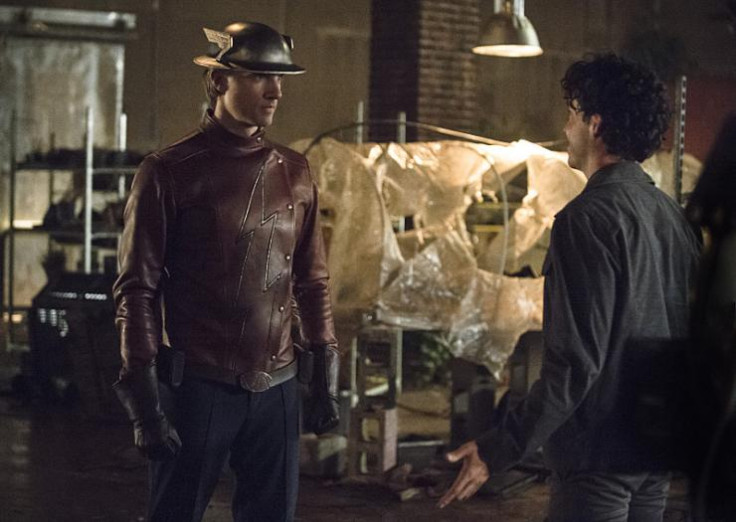 Another major spoiler for episode 2 is that Zoom takes Jay Garrick's powers, and the speedster comes to Barry seeking assistance to get rid of Zoom as well as to get his abilities back. The Master Of Sex actor revealed, "... When we meet Jay and we see him in episode 2 where he announces that Zoom stole his speed, he's very much a civilian walking around Earth-One trying to make heads and tails or what to do next. In episode 3, he begins to talk about his struggles with this new reality for him."
A new promo shows a new villain yelling, "Must be my lucky day. Zoom sent me here to kill you," as Jay Garrick says in a voice over, "He wants to destroy you and he will do whatever it takes." Then we see the villain turn to sand and Barry lying on the floor.
Garrick says in the video, "He is a meta-human named Sand Demon. He is from my world. Let me teach you how to stop it." Barry asks him how he knows these details and Garrick replies that in the world he came from, he is known as The Flash.
The official synopsis for episode 2 reads as follows:
Jay Garrick (guest star Teddy Sears), a mysterious man from Earth-2, appears at S.T.A.R. Labs with a dire warning about an evil speedster named Zoom, who is set on destroying The Flash. Barry (Grant Gustin) and the team must decide if they can trust this stranger even as they face yet another powerful meta-human. Meanwhile, Joe (Jesse L. Martin) must deal with a determined officer named Patty Spivot (guest star Shantel VanSanten) who wants to join his meta-human task force.