The Flash season 2 will return from its three-week hiatus on 22 March at 8pm EST on The CW. The network has released the official synopsis and promo for episode 16 titled Trajectory, where Barry and his Star Labs team will run into a female speedster.
Here is the synopsis for the episode:
Deciding to blow off some steam, Barry (Grant Gustin) and the team head out for a night on the town only to encounter an unexpected speedster who is up to no good. Iris (Candice Patton) is challenged by an assignment from her new boss (guest star Tone Bell), and is surprised when friction turns to flirtation.
Allison Paige has been roped in to play Eliza Harmon aka Trajectory in the upcoming episode of The Flash. According to a TVLine report, Harmon's character is described as an "exceptionally bright scientist" with a "split personality a la Jekyll and Hyde".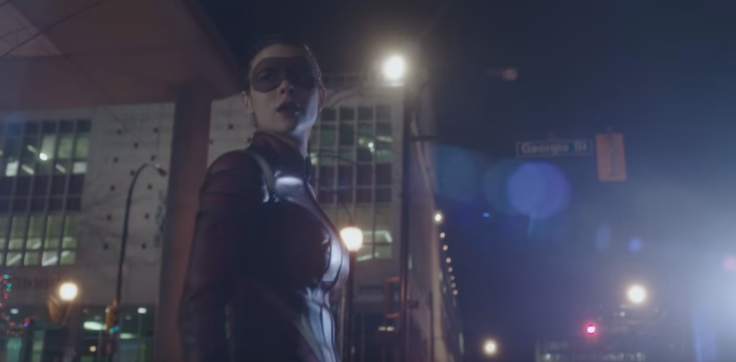 In DC lore, Eliza was a Lex Luthor-created speedster. The first female speedster's arrival in Central City will create a lot of chaos, as unlike Barry she is a thief. According to a report, Trajectory will be mistaken for Scarlet Speedster and Barry has to quickly figure out a way to bring her down before she destroys Flash's reputation in his city.
The report reads: "Having arrived in town intent on creating maximum chaos, Trajectory's antics are misinterpreted as having been perpetrated by the Flash himself. Barry thus must quickly uncover the mystery of who is the girl in the mask — as well as what is driving her mad desire for speed and destruction."
A promo released shows Trajectory crashing Barry's night out with his friends, and stealing everyone's wallets. Barry then tells Joe: " I don't want people thinking that Flash is a petty thief." Then we see Barry trying to take the female speedster down but he ends up on the losing side. She even manages to punch Barry in the face, as we see Caitlin tending to Barry's wounds.
A curious Cisco asks: "Purely scientific, is she good looking?" As he jokes: "Next time she punches me in the face, I will be sure to get her number."
The question remains — How will Flash bring the female speedster down? Trajectory is obviously smarter and faster than Barry. But the Scarlet Speedster has help from his Star Labs team members, including Harrison Wells, Cisco and Caitlin, to figure out a way to get rid of her.