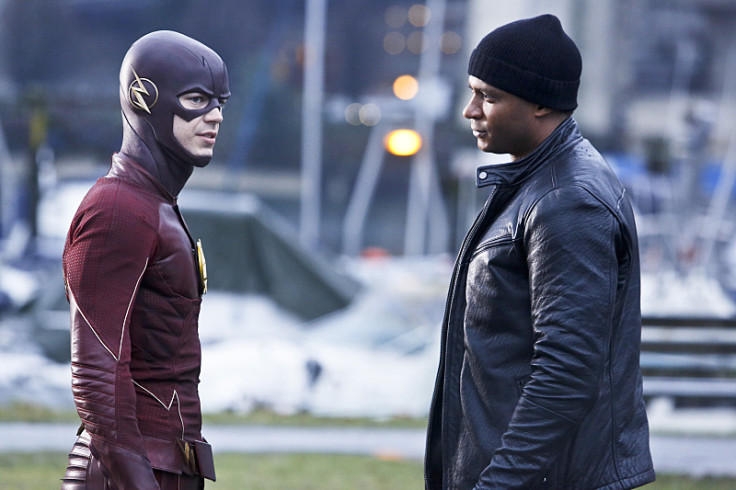 Arrow's John Diggle and his wife Lyla will travel to Barry Allen's Central City to defeat King Shark in the upcoming episode of The Flash season 2. Episode 15 is titled, King Shark, which airs on 23 February at 8pm EST on The CW.
The official synopsis reads as follows:
Click here to watch the episode online on The CW website in the US.
In the previous episode, Barry, Harrison Wells, and Cisco Ramon rescued Jesse from Zoom's lair and returned to Earth 1 thanks to help from Killer Frost. However, the episode ended with Zoom putting his hands through Jay Garrick's heart and sucking him to Earth 2, moments before the breach is closed.
Actor David Ramsey, who plays Diggle, spoke about the much-awaited crossover episode of Arrow and The Flash. Ramsey told Collider: "I told [executives producers] Andrew Kreisberg and Greg Berlanti, "Anytime you want me on The Flash, I love being over there." Just logistically, as an actor, when you're playing against a 14-foot, mutant half-man, half-shark, it is a stretch of the imagination. You're going back to all of your acting training and classes to try to make that happen. So, you're acting against a tennis ball on a 14-foot long stick, essentially."
According to the actor, The Flash set is much more fun than Arrow's. Ramsey says, "...It's just so much fun on The Flash. Our set is very fun, too, but the grounded nature of Arrow spills over into the mood on the set. It's very grounded and very brooding. The Flash is just happy and the set is even lighter. There are no shadows on the set. There are lights everywhere. People are joking."
When asked to spill something about the episode, the actor joked, "And what can I tease about it? Diggle and Lyla are chasing a 14-foot mutant shark! What else needs to be teased?!"