The CW has released the official synopsis for its midseason premiere episode titled Potential Energy. In the upcoming chapter, Barry Allen will contemplate sharing his secret with girlfriend Patty Spivot, as Star Labs team deal with a new meta-human who can slow time.
Here is the full synopsis released for episode 10:
Now that they've grown closer, Barry (Grant Gustin) considers telling Patty (guest star Shantel VanSanten) that he is The Flash. Meanwhile, Joe (Jesse L. Martin) and Iris (Candice Patton) try to get to know Wally (Keiynan Lonsdale), and the team hunts down a meta-human who can slow time itself.
The episode, directed by Rob Hardy and written by Bryan Q, will air on Tuesday, 19 January at 8pm EST on The CW. A trailer for the midseason premiere episode also shows Patty getting kidnapped by Zoom before Barry could tell her that he is The Flash. Also, with a meta-human with powers to slow time on the loose in Central City, there is some big trouble ahead for Barry.
The fall finale introduced a new member of West family — Wally — and the upcoming episode will find iris and Joe getting to know him. Keiynan Lonsdale who plays Wally talked about his character's arc in an interview with Entertainment Weekly. In The Flash comics, Wally eventually becomes a kid speedster.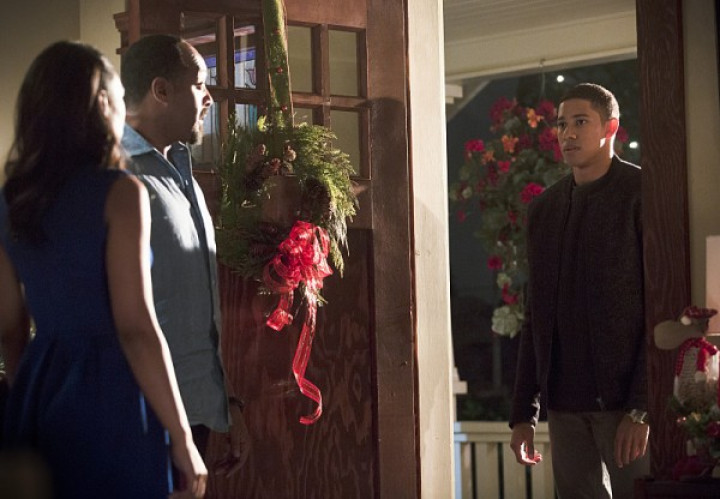 Lonsdale said: "Where we meet Wally and how we're introduced to him, he's just a regular guy. He's not Kid Flash just yet. I don't know when that's going to happen. He is also into drag racing, which makes the family dynamic kind of funny when your dad is a detective. It's pretty cool. He's fairly protective of himself and what it is that he does. "
Speaking about Wally's relationship with his father Joe and sister Iris, the actor dished: "It's difficult having to be introduced into a new family; really, a family with really strong personalities. Iris is a really strong person and she's determined and has protected herself. When Wally is maybe getting into trouble, she is very concerned and does what she needs to do to help him out. It's that kind of thing: Does Wally want to be helped at all by anyone, family or not? That's where he's at. He's got his defenses built up pretty high."
Barry and Wally may not share the best of relationship in The Flash season, according to the 24-year-old actor. Lonsdale teased a sibling rivalry between the two and said: "Wally is trying to find his place within this family but his place is already kind of taken, in his eyes at least, by Barry. He isn't the biggest fan of Barry in the beginning."
"Obviously, we know in the future and in the comics at least that they're going to be running side by side but at this point, it's a funny sibling rivalry from Wally's end, at least. Barry's such a great guy. He's such a funny, nice human that it makes the dynamic pretty entertaining," Lonsdale shared.