The Flash season 2 returns with its fall finale episode where the Team of Rouges returns with a new challenge for Barry, while Keiynan Lonsdale will make his much-anticipated debut as Wally West aka Iris West's brother. Episode 9 is titled Running To Stand Still, which will air on on 8 December at 8pm EST on The CW.
The official synopsis reads as follows:
When Mark Mardon AKA The Weather Wizard (guest star Liam McIntyre) returns to break Leonard Snart AKA Captain Cold (guest star Wentworth Miller) and James Jesse AKA The Trickster (guest star Mark Hamill) out of Iron Heights, Barry (Grant Gustin) must stop these rogues from taking over Central City during Christmas. Meanwhile, Joe (Jesse L. Martin) and Iris (Candice Patton) meet Wally West (Keiynan Lonsdale).
Click here to watch the episode online on The CW website in the US.
Warning: Potential spoilers ahead.
Barry maybe moving towards an even faster super speed thanks to a new formula, according to executive producer Andrew Kreisberg. According to Entertainment Weekly, "If you're a fan of the comics, you know that a big part of the comics is Velocity 9," he said and added that in the Arrow-Flash crossover episode, "You met Velocity 6. It's safe to say there will be a few more iterations of that formula. How it plays out and how it works and who uses it and the effects that it has, that's something you'll have to watch."
Grant Gustin also teased Barry's new power in the fall finale episode. He told TVLine, "Barry does another thing with his powers that he, in the moment, discovers and that he's never done before. It's kind of goofy in a way where it's very comic book-y. It's cool."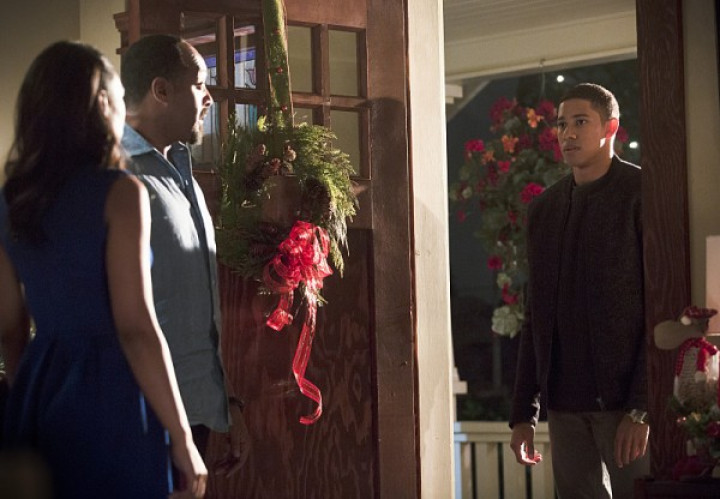 On the other hand, actor Keiynan Lonsdale spoke about what fans can expect from his character in episode 9. Lonsdale was quoted by Blastr as saying: "You're going to see Wally there for the first time, and it's going to shake things up. He's going to step into the world that is The Flash, and the West family, trying to figure out how he's going to deal with Joe and Iris, and Barry as well — and how they feel about him. There's a lot of that going forward. We'll see how much you get to see in the next episode [laughs], but I can say it's a nice introduction."
The actor dished about getting a suit of his own and working alongside The Flash – as in the comics Wally West is also a speedster. Lonsdale shared, "Personally I'd love to be him working side by side with Barry Allen, with The Flash. To me, that'd be the most exciting kind of thing, to see that."
"There's so much to love about Wally West and Barry Allen, and it would be cool to have a partner in crime, or really the opposite, to defeat crime [laughs]. That's what I want, to see what kind of craziness they can get into together," he added.