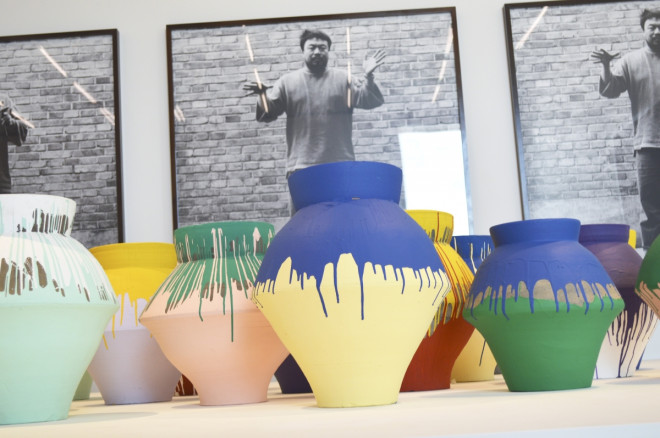 A Florida painter smashed a $1m (£560,000) vase by Chinese dissident artist in protest at the museum's lack of local art.
Maximo Caminero, 51, was arrested and charged with criminal mischief at the Perez Art Museum in Miami.
Ai's work is never shown in China because of government censorship. He was detained in 2011 when Beijing launched a crackdown on dissenters and held for three months.
According to police, a security guard saw Caminero pick up the vase and asked him to put it down. Caminero hurled it to the floor, it was alleged.
"I did it for all the local artists in Miami that have never been shown in museums here," he told the Miami New Times. "They have spent so many millions now on international artists."
Behind the spot where Caminero smashed the vase were three photos which showed Ai dropping a vase on the ground.
"I saw it as a provocation by Weiwei to join him in an act of performance protest," Caminero said.
Ai said: "He can drop whatever he likes to drop but not other people's property."
Criminal mischief carries a sentence of up to five yearsfor damage to items worth more than $1,000.