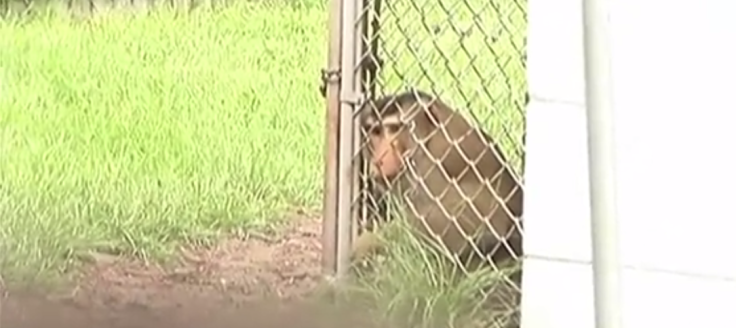 Police in Sanford, Florida dealt with an unruly monkey on the loose. Sanford Police Department posted the incident on Facebook, which ended when the monkey's owner was able to retrieve him.
Authorities received a call shortly after 8am from a resident who reported a monkey, later identified as Zeek, eating mail out of a postbox in the Hidden Lakes subdivision of town. After police arrived, Zeek pulled off the moulding from one of the patrol vehicles.
According to CBS News, unsure whether the monkey would be aggressive, five police officers were joined by members of the Florida Fish and Wildlife Conservation Commission. Officers used a patrol car to block off the road and cordon Zeek to one area.
Sanford Police Department posted photos and videos to its Facebook profile of Zeek climbing atop a mailbox, a traffic sign and the roof of the police cruiser. In one video, Zeek climbs on top of the navy patrol vehicle and starts pulling the moulding, which he quickly put in his mouth. "Zeek had a little fun with our patrol car," the officers wrote.
Police were eventually able to gain the monkey's attention long enough for his owner to pick him up. "We were able to distract Zeek with a bottle of water until his owner came and retrieved him," police wrote. CBS News reported that the monkey's owner had the proper permit to own the officers.
"Our officers respond to some pretty serious, sad and horrific calls," Public Information Officer Shannon Cordingly told CBS News. "It's nice to be able to respond to something of this nature, a little more lighthearted and have a happy ending."
Cordingly said that a female lieutenant and self-proclaimed animal lover was called to coax the monkey. That lieutenant later posted a photo of herself with the monkey after he was caught.