Florida man who disemboweled girlfriend after 'rough sex' pleads not guilty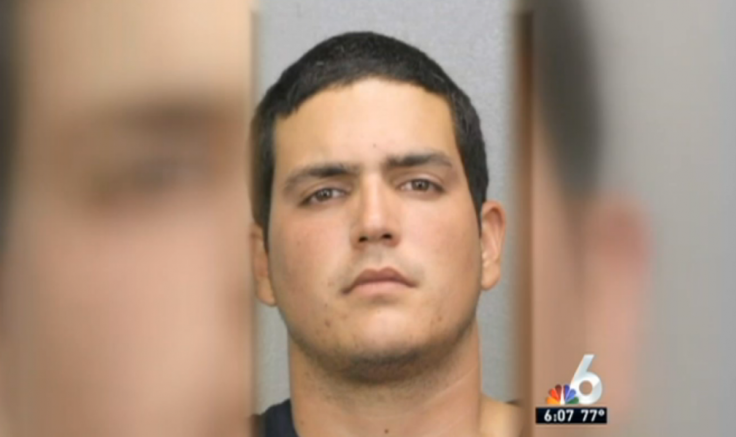 A Florida man accused of disemboweling his girlfriend after she yelled out her ex's name during sex pleaded not guilty to charges of sexual assault and murder during his 19 October arraignment. The 24-year-old told investigators he became "a monster" after the 20 September incident.
Fidel Lopez was arraigned in a Broward, Florida courtroom wearing striped jail garb and handcuffs, the Sun Sentinel reported. An hour into his arraignment, his attorney Christopher Pagan withdrew from the case, leading Broward Circuit Court Judge Lisa Porter to appoint a public defender for the suspect.
Porter announced that a "not guilty plea" had been entered on behalf of Lopez. According to the Sun Sentinel, Pagan and public defenders Jose Reyes and Caroline MCCrae each spoke to Lopez before the change in representation.
Lopez is accused of killing his 31-year-old girlfriend Maria Nemeth during a drunken post-sex rage incident. Shortly after 3.30am on 20 September, Lopez called authorities and said his girlfriend was having issues breathing and was going to die. "Hurry up, my girlfriend is in the bathroom," he said as he screamed and cried. "Like, I don't know man, she's not breathing. She's gonna die, man. Come on, someone help her."
When detectives and paramedics arrived, they found Lopez yelling for help as he stood over Nemeth's bloody body. Police reportedly found a lot of blood on the floor inside of a closet, in the bathroom and on the walls of a hallway. They also discovered bloody tissue inside the closet, holes in the walls, a detached closet door and a smashed sliding glass door.
Lopez initially told detectives he and Nameth were drinking tequila, which led to rough sex, and that it had been her idea for him to insert objects into her vagina. He claimed she then went into the bathroom, when she vomited and began having breathing issues.
However, he later changed his story as detectives continued to question him. He admitted that his girlfriend allegedly called out her ex-husband's name during drunken sex twice, angering him and leading him to break things around the apartment. When he came back, he found her passed out and proceeded to inset various things, including a hair flat iron and a beer bottle, into her vagina and anus.
Lopez referred to himself as a "monster" when he described how he inserted his hand inside his girlfriend's vagina and began to pull our her intestines. He later attempted to revive her in the bathroom by splashing water in her face. When she did not regain consciousness, he proceeded to smoke a cigarette before calling 911.
The alleged murderer is charged with first-degree murder and remains in jail. Lopez is scheduled to return to court on 10 December.
© Copyright IBTimes 2023. All rights reserved.