Florida police announced they have removed thousands of "bladed instruments" from the home of a woman who allegedly attempted to stab a sheriff deputy. According to authorities, Nickcole Dykema tried to stab a sergeant with a large sword or machete on the night of 15 September.
Dykema was found in a mobile home which was filled with thousands of knives, swords and bladed weapons. The weapons reportedly numbered 3,714, CBS News reported. Police also discovered an apparent shrine with fake body parts from dolls.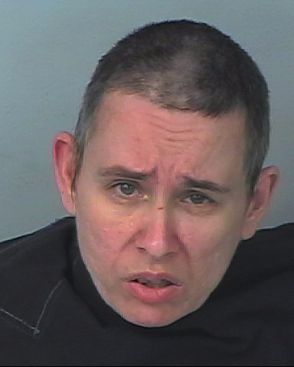 According to CBS News, police went to the Brookesville, Florida home to help arrest Dykema, who had multiple felony warrants for her arrest. Dykema was allegedly caught shoplifting in December and was placed on probation, with the condition that she could not be in the possession of weapons.
WTSP, a CBS affiliate, reported Dykema drew the attention from probation officers after allegedly slashing screens and destroying an air conditioning unit outside of her neighbour's home. Officers from the Hernando County Sheriff's Office arrived on scene to assist with the arrest, where they were met by a resistant Dykema, who refused orders to exit her home.
Police then forced entry, leading Dykema to attempt to stab the sergeant. Hernando County Sheriff's Office spokeswoman Denise M Maloney told The Washington Post, "She struck the knife through the front door and attempted to stab Sgt. [Chris] Calderon in the face and head."
Authorities engaged with the 47-year-old in a five-hour standoff, shooting her twice with bean bag rounds.
CBS News reported that Dykema allegedly advanced towards officers while armed several times, before officers used a Taser on her and took her into custody. "[The sergeant] would've been well within his rights to both legally or morally, and ethically to use deadly force on her. The fact that he didn't is his call," Hernando County Sheriff Al Nienhuis told WTSP. "It's by the grace of God that everyone went home safe."
Dykema is being held without bond and is charged with property damage/criminal mischief, resisting an officer and assault on a law enforcement officer.