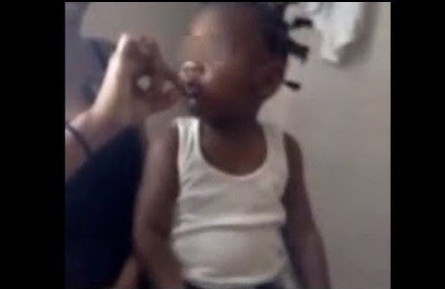 A video of a South Carolina woman giving her toddler a marijuana joint has sparked global outrage.
The distressing one-minute clip, which shows the unidentified woman smoking the pot with the child on her lap before letting the youngster smoke the drug too, has infuriated viewers.
The mother, who is in her 20s, can be seen giggling and laughing to the camera as she smokes. She then tells the child "here" before giving the child a drag of the marijuana.
Despite the child clearly becoming intoxicated, she gives him another three puffs and even blows smoke in his face a number of times.
The incident is filmed by another woman off camera who can be heard laughing in the background.
The clip has stirred up a huge backlash from the online community who have branded her actions as "immoral" and "dangerous".
One outraged viewer wrote: "That's just plain ignorance what she did."
Another commentator said: "Where is cps [Child Protection Services] when you need them for problem like that"
With the video evidence, the unidentified woman could potentially face jail time and also be stripped of her custodial rights.
It would not be the first time a mother has been caught on videotape letting her child take drugs.
In 2010, Jessica Gamble was charged with child endangerment, evidence tampering and corrupting another with drugs after a video of her two-year-old daughter smoking a marijuana cigarette went viral online.
The 23-year-old mother, who could be heard laughing on the video and telling her daughter not to "blow on it," was sentenced to six months in jail.