This year's version of hit sports management sim Football Manager will include players who can come out as gay, the game's director has revealed. "Part of the reason we decided to do this is because there are gay footballers," Miles Jacobson told the BBC.
"We know from the amount of professionals that there has to be players who are gay but feel they don't want to come out," he continued. "I find it weird that it's still a problem in football so we decided to try and show people that coming out isn't a big deal and can be a positive thing.
"I just think it's crazy that in 2017 we are in a world where people can't be themselves."
There are currently no openly gay players in Britain's top four divisions. Only one gay player is even known to have played in the Premier League: Thomas Hitzlsperger, who played for Aston Villa, West Ham and Everton.
Hitzlsperger only came out as gay after his retirement in 2013.
In Football Manager 2018, only players created by the game itself to continually populate the game to replace existing players when they retire – called 'regens' by fans – can come out as gay, which is announced through in-game news alerts.
Shortly after, it's said your club's commercial director will note an increase in revenue attributed to an increased interest in the club from the LGBTQ community.
While the introduction of gay players will have little impact on the game itself (just like in real life) it is a significant move intended, in whatever small way, to carry the footballing community a little closer to being totally open to the idea of gay players in real life.
Last year's Football Manager 2017 also made headlines for another feature, which sought to emphasise the potential future impact of Brexit on football with more complicated transfers between UK and EU-based players.
Scotland could also break away from Britain in the game, leading to further complications.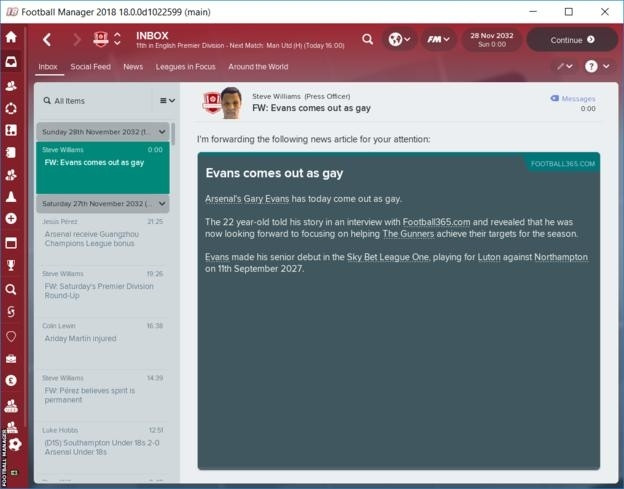 "The Brexit feature was quite controversial," Jacobson said, "there were some people who didn't like it being in the game. But it helped us realise we can be a bit more outward in our thinking in trying to make the world a better place.
"For that reason we were not going to announce it ourselves. We have been careful not to feature it in videos, or mention it in any releases.
"We are not going to be able to change the mind of someone who is homophobic, we don't have that power, and if someone has that issue and decides not to buy the game for that reason then to be honest I feel really sorry for them.
"Hopefully, it will make some people look up and think, 'this is ridiculous'."
Developed by Sports Interactive and published by Sega, Football Manager 2018 is set for release on PC on 10 November 2017.